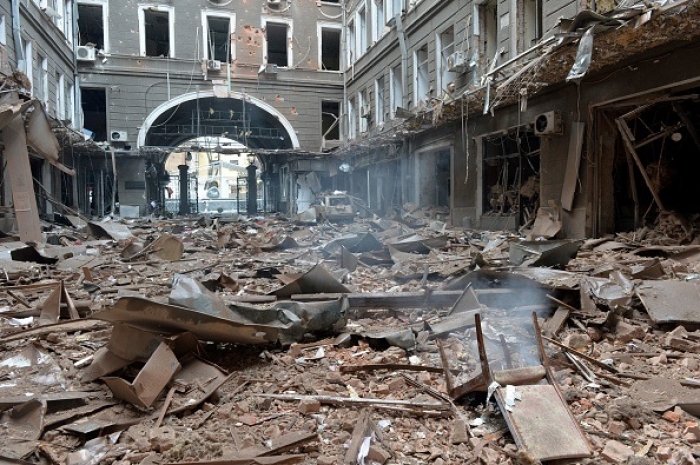 Moscow (CNSNews.com) – The Russian military is making territorial gains in southern Ukraine, while according to Western officials its offensives in other parts of the country have appeared to stall.
Ukrainian authorities confirmed on Thursday that Russian forces have seized Kherson, a port on the Black Sea. With a population of 290,000 people, Kherson is the first major city to be fully occupied since the start of Moscow's invasion a week ago.
Andrey Prokaev, an independent Russian military analyst, told the Vzglyad newspaper that its capture "opened the door" for Russian forces to continue moving along the western coastline, towards the strategic cities of Mykolaiv and Odessa, or to launch an offensive into the central regions of Ukraine too.
Russian forces have also surrounded Mariupol on the Sea of Azov people. Local authorities said on Thursday Russian troops were imposing a "blockade" of the city of 400,000 people, and had cut off its water supply and electricity.
Mariupol would be a strategic prize for the Kremlin, allowing its forces to establish a land corridor between its western border with Ukraine and the southern Crimean peninsula, which was annexed by Moscow in 2014.
Russia's progress on other fronts is moving more slowly. In the north, fierce fighting is continuing between Russian and Ukrainian troops for control of Kharkiv, Ukraine's second-largest city and a major industrial hub.
Russian forces took control of territory on the northern outskirts of Kyiv in the early days of the invasion, but have so far not attempted an assault on the city. The Russian military column near the city has not made much movement over the past three days, according to British defense officials.
The Pentagon estimates that Russia has so far committed 82 percent of the reported 150,000 troops it deployed near the Ukrainian border over recent months, suggesting it has the capability of moving in additional forces in the coming days.
Some defense analysts contend that Russia could soon step up its air campaign, noting that it has yet to fully make use of its roughly 300 combat aircraft stationed within striking distance of Ukraine.
There are some signs that this aerial ramp up is already beginning. In recent days, videos on social media have shown Russian missiles hitting Ukrainian barracks, government buildings, and television towers. The Russian Defense Ministry said Thursday its air strikes have destroyed 1,612 military targets since the start of the war, including bases, air fields, missile systems, radars, tanks, and artillery.
Moscow and Kyiv have presented radically differing narratives regarding casualties. The Russian Defense Ministry reported 498 Russian soldiers had been killed and 1,597 injured as of Wednesday evening, and claimed the Ukrainian military had suffered 2,780 deaths and 3,700 injuries.
Ukrainian President Volodymyr Zelensky meanwhile claimed Russia had lost 9,000 troops during the first week of fighting. He did not provide figures on Ukrainian military casualties.
The United Nations human rights office said on Thursday that it had confirmed 249 civilian deaths and 553 injuries. The U.N. refugee agency reported that one million Ukrainians have fled the country since the start of the conflict, which would account for roughly 2 percent of Ukraine's 44 million people.
Russian Foreign Minister Sergei Lavrov on Thursday expressed "condolences" to the families of civilians killed in Ukraine, telling reporters Russian forces were under "strict orders to use only high-precision weapons to decapitate military infrastructure."
During a meeting of Russia's Security Council on Thursday, President Vladimir Putin declared that the operation was "going according to plan and in full compliance with the timetable."
Many Western and some Russian analysts have offered a more skeptical assessment, however.
U.S. officials say Russia's offensives in northern and central Ukraine have evidently been hampered by fuel and food shortages, and argue that Russian military planners appear to have underestimated the level of Ukrainian resistance.
A similar view was expressed by Igor Strelkov, a retired Russian military officer who helped lead a pro-Russian insurgency in the Donbass region in 2014. In an interview published on YouTube on Thursday, he asserted that Russia's offensive had "stalled due to an absolutely incorrect assessment of the operational situation" by military planners.
"It appears that there was an assumption that Russian forces would be greeted either neutrally or positively by the Ukrainian populace," Strelkov said. "It also seems that there was an assumption that either the Ukrainian armed forces would not offer resistance or even defect to a new [pro-Russian] Ukrainian government."
Some experts argue that it's unlikely Russian forces could be advancing much faster than they are right now, however.
Vasily Kashin, a defense analyst at the Moscow-based National Research University Higher School of Economics, told the RBK news website that the offensive was moving at a speed comparable Operation Iraqi Freedom in 2003, when U.S. forces took three weeks to capture Baghdad.