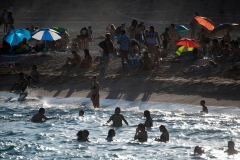 Berlin (CNSnews.com) – The European Union is continuing to discuss with U.S. officials the opening-up of travel to Europe this summer for those able to produce certificates showing they have been vaccinated against the coronavirus, in a bid to salvage its hard-hit tourism sector.
The move is part of an overall E.U. plan to roll out a "digital green certificate" program. The European Parliament is set to vote on the so-called coronavirus "passport" issue on Wednesday.
The program would see a standard for digital certificates, acceptable across all member states, identifying whether the bearer has been vaccinated, has tested negative for COVID-19, or has previously recovered from the respiratory disease.
Coordinating the program and travel rules across 27 countries by the summer will prove challenging, as some member-states – despite appeals by the European Parliament – have already begun issuing a patchwork of varying certifications, or deciding independently on rules for future travel.
During an online session on Tuesday, member of the European Parliament Juan Aguilar warned that member-states "must stop imposing unilateral impositions, and restore clarity and trust to citizens."
A day earlier, European Commission spokesperson Adalbert Jahnz conceded that states have already began adopting their own rules, and noted that governments were not obligated to follow E.U. guidelines.
Jahnz urged members not to take "unilateral approaches."
Greece, for example, has already waived quarantine requirements for visitors, including Americans, who can show proof of vaccination or a recent negative test. Cyprus will be introducing similar rules from May 10, its tourism minister announced on Monday. Croatia, another country that relies heavily on tourism, reopened to U.S. travelers on April 1.
Jahnz confirmed that the E.U. was in talks with the U.S. and hoped to see a return of travel from North America soon.
"We have been following very closely the progress of vaccination in the United States and we seek to restore transatlantic travel as soon as it is safe to do so," he said.
European Commission president Ursula von der Leyen told the New York Times at the weekend that Americans "vaccinated with vaccines approved by European Medicines Agency" would be able to visit the E.U. this summer.
The EMA has approved all three vaccines okayed by the FDA for use in the U.S.: Moderna, Johnson & Johnson and Pfizer/BioNTech.
Various E.U. countries have already prepared some sort of digital certification app, which they say they will be compatible with the E.U.'s green certificate system.
France became the first last week, with its TousAntiCovid app allowing users to record COVID-19 test results for checks at borders, using a system which officials say will be harmonized across Europe.
Spain's government said Tuesday it would be ready to use digital certificates by June, pending a successful test in May, while Estonia said its digital vaccination certificate would be completed by the end of the week, designed to "go hand-in-hand with the European green pass project."
A bloc-wide reopening in time for summer would spell relief in particular for southern members such as Italy and Greece, which rely heavily on tourism.
According to the World Travel and Tourism Council, before the pandemic tourism and travel contributed to about 13 percent of Italy's gross domestic product and 21 percent of the Greek GDP. Because of the crisis, Italy's GDP declined by 8.9 percent last year while Greece's dipped 8.2 percent.
WTTC president Gloria Guevara this week that for the tourism sector, the pandemic "has been 18 times worse than the 2008 financial crash."
Still, ethical concerns arising over coronavirus "passports" remain.
"There are real advantages to facilitating and harmonizing the process for certifying that someone is vaccinated, immune or infection-free. This is particularly true when it comes to making travel easier," a spokesperson for the Center for European Policy Studies said on Tuesday.
"But using certificates to grant privileged access to places or services raises human rights issues and should be approached with caution."