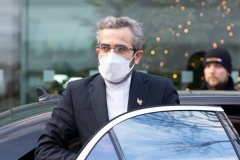 (CNSNews.com) – Virtually the entire Senate Republican Conference has warned President Biden that an Iran nuclear deal that does not have broad congressional support will share the fate of its predecessor.
Forty-nine of the 50 GOP senators signed onto a statement expressing concern about reports of an imminent agreement at talks in Vienna, accusing the administration of not adequately consulting with Congress, and warning that a deal not approved by Congress will not survive.
"The administration has thus far refused to commit to submit a new Iran deal to the Senate for ratification as a treaty, as per its constitutional obligation, or for review under statutory requirements that passed on a bipartisan basis in response to the 2015 deal," the statement said.
"We strongly urge the administration, our Democrat colleagues, and the international community to learn the lessons of the very recent past. A major agreement that does not have strong bipartisan support in Congress will not survive."
Treaty ratification requires support from two-thirds of the U.S. Senate. With that level of backing looking unlikely in 2015, the Obama-Biden administration chose not to submit its Joint Comprehensive Plan of Action (JCPOA) to the Senate for advice and consent.
Instead the accord was an unsigned inter-governmental agreement between the parties involved in the negotiations – the P5+1 (U.S., Russia, China, France, Britain and Germany) and the Iranian regime.
Congress that year passed the Iran Nuclear Agreement Review Act, requiring the president to submit for review any agreement related to Iran's nuclear programs, within five days of a deal being concluded.
The Senate in 2015 duly reviewed the JCPOA but in a series of procedural votes opponents of the deal – all Republicans and four Democrats – failed to achieve a resolution of disapproval.
Implementation went ahead, until President Trump in 2018 withdrew from the agreement and restored sanctions that had been lifted under it. Iran in turn began abandoning its obligations. The Biden administration has been working for a year to return both Iran and the U.S. to compliance.
In Monday's statement, signed by every Republican except Kentucky Sen. Rand Paul, the senators said press reports indicated that the agreement shortly to be finalized will "provide substantial sanctions relief in exchange for merely short-term limitations on Iran's nuclear program."
"By every indication, the Biden administration appears to have given away the store," they said, citing reports that even sanctions not relating to the nuclear activities – but to support for terrorism and human rights abuses – may be lifted
The senators said Republicans "would be willing and eager to support an Iran policy that completely blocks Iran's path to a nuclear weapons capability, constrains Iran's ballistic missile program, and confronts Iran's support for terrorism."
"But if the administration agrees to a deal that fails to achieve these objectives or makes achieving them more difficult, Republicans will do everything in our power to reverse it."
Senate Foreign Relations Committee ranking member Sen. Jim Risch (R-Idaho) said on Sunday any deal with Iran not submitted to Congress for approval would not survive the next Republican presidency.
"Even if the Biden administration signs, they have what's called an executive agreement with Iran," he told Fox News Sunday. "It will not last past the next Republican president that's elected, just as the last deal didn't last the minute that the Republicans took over."
Monday's joint statement marks the third such warning to the White House in five weeks, after one from 32 GOP senators on February 7 and another by 160 House Republicans ten days later.
A deal without Russia?
As the Obama administration did seven years ago, the administration argues that since a nuclear-armed Iran would pose a much bigger threat than one with its nuclear programs curtailed, securing an agreement must take priority over responding to other malign activities, such as the regime's terror sponsorship and ballistic missile programs.
State Department spokesman Ned Price said on Monday the regime was funding proxies and terror groups in the region and engaging in malicious cyber activity, but "Iran would be able to do all of these things, and potentially more, with far greater impunity if it were not verifiably and permanently constrained from obtaining a nuclear weapon."
Price said the effort to reach an agreement in Vienna was "close to the finish line."
A hurdle arose last week when Russia made a last-minute demand that any future business between Russia and Iran, arising from a revived JCPOA, must be shielded from the sanctions it now faces for attacking Ukraine.
With the talks paused, the three European parties to the deal, Britain, France, and Germany, said in a joint weekend statement, "Nobody should seek to exploit JCPOA negotiations to obtain assurances that are separate to the JCPOA."
"We would certainly endorse that statement," Price said on Monday.
He also suggested that if the Russian gambit – or in his words, "external factors" – makes a return to the JCPOA impossible, the U.S. could explore "diplomatic alternatives."
"We continue to believe that a mutual return to full implementation of the JCPOA is the best way to address that, but if external factors make JCPOA reimplementation impossible, we will of course be open to diplomatic alternatives," he said.
Price was asked whether the U.S. could seek a bilateral agreement with Iran, or a multilateral deal that excludes Russian, a permanent member of the U.N. Security Council.
"Unless and until we are there, we're not going to speculate on what that might look like," he said, "but we are committed to seeing to it that Iran can never obtain a nuclear weapon."