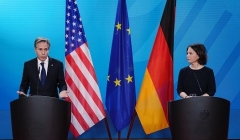 (CNSNews.com) – As the administration continued efforts to clarify President Biden's press conference remarks on a "minor incursion" by Russia into Ukraine, Secretary of State Antony Blinken said in Germany on Thursday that even a single Russian soldier crossing into Ukrainian territory would be "a profound problem."
"If a Russian soldier crosses into Ukraine, then we have a profound problem – a clear attack on Ukraine, whether it's one soldier or a thousand soldiers," Blinken said in an interview with German broadcaster ZDF.
He was responding to a question about Biden's remarks, which appeared to draw a distinction between a Russian invasion – which would attract a strong and unified NATO response – and lesser military action, which the president indicated could see NATO allies wrangling over how to react.
Critics said the words amounted to giving Russian President Vladimir Putin a green light to carry out aggressive military action against Ukraine short of a full-blown invasion.
White House press secretary Jen Psaki in a statement issued shortly after the press conference stressed that "any" Russian troops crossing the border would constitute "a renewed invasion, and it will be met with a swift, severe, and united response from the United States and our allies."
Continuing the attempts to clarify, Blinken told ZDF that Biden had been talking about "hybrid" warfare tactics short of Russian troops entering Ukraine.
"What the president was referring to yesterday was that there are scenarios short of Russian forces going into Ukraine that could have very, very similar effects to what Russia might try to accomplish," he said. "For example, trying to create a coup that removes the government, using hybrid methods, using special forces, things that are not as easily seen."
Blinken said the extensive U.S. diplomatic efforts over recent weeks have aimed to ensure that Western allies are coordinated and "have a plan to deal effectively with each [potential] scenario."
At an earlier press appearance with his German counterpart, Annalena Baerbock, Blinken was also asked about Biden's "minor incursion" comment, and provided a similar response.
"We have been very clear throughout," he said. "If any Russian military forces move across the Ukrainian border and commit new acts of aggression against Ukraine, that will be met with a swift, severe, united response from the United States and our allies and partners."
Blinken's Berlin visit came a day before a planned meeting in Geneva with Russian Foreign Minister Sergei Lavrov, the latest attempt to resolve diplomatically the crisis triggered by the amassing of Russian troops near Ukraine's borders. The administration has warned Russia could invade at any time; Moscow denies have any intention to do so.
'Our allies and partners know exactly what the president's position is'
Back at the White House, Biden on Thursday morning also sought to clarify his press conference remarks.
"I've been absolutely clear with President Putin. He has no misunderstanding," Biden told reporters in the Cabinet Room, referring to notes on the desk in front of him.
"If any – any – assembled Russian units move across the Ukrainian border, that is an invasion," he said. "But – and it would be met with severe and coordinated economic response that I've discussed in detail with our allies, as well as laid out very clearly for President Putin."
"But there is no doubt – let there be no doubt at all that if Putin makes this choice, Russia will pay a heavy price."
At her daily press conference Psaki fielded numerous questions about Biden's remarks about Ukraine and Russia, and played down the idea that they had required clearing up.
"President Biden has repeatedly said the words of a president matter, so why isn't he more careful with his remarks?" a reporter asked.
"Well, I think the president gave nearly two hours of a press conference last night," she said. "What we conveyed this morning – last night and this morning – was exactly what he has conveyed to President Putin."
"And I think what's important to the American public – and tell me if you agree or disagree – is what the president's positions are and what he means. And that's exactly what he provided directly this morning."
Asked whether the need to send out and make clarifications "take[s] away from the administration's ability to send a consistent message to international allies and the American people," Psaki replied, "I can assure you that our allies and partners know exactly what the president's position is."
"They knew what it was yesterday. They knew during the press conference. They knew after the press conference.  Because we have been engaged closely and working in lockstep with them for weeks on the rising military incursion – or threat posed by Russia.  So they know exactly where they stand. They always have and they certainly do today."
Russia annexed Ukraine's Crimea peninsula in 2014 and began supporting pro-Russian separatists in the Donbas region of southeastern Ukraine. More than 14,000 Ukrainians have died since in the conflict, which Blinken in a speech Thursday said was being "orchestrated by Russia with proxies that it leads, trains, supplies, and finances."
Kremlin spokesman Dmitry Peskov said U.S. "threats" against Russia could goad Ukrainian "hotheads" to "restart the civil war."
Responding Thursday to a question about Biden's warning that an invasion of Ukraine would be "a disaster for Russia," Peskov said, "All these statements may bring about a destabilization, because some hotheads in the Ukrainian leadership may develop the delusion that they can try to restart the civil war in their country, or try to handle the problem of the southeast using force."
"We feel certain fears on this score," he said. "We believe that [the U.S. statements] by no means promote an easing of tensions which have emerged in Europe."