(CNSNews.com) – Turkey's Islamist government has taken issue with the fact that an upcoming visit by Secretary of State Mike Pompeo has a religious freedom focus.
This is the same government that this year reverted two historic Byzantine-era churches into mosques and earlier held an American pastor for two years on unproven criminal charges.
Responding to a State Department statement saying Pompeo planned to discuss religious issues in Turkey when meeting with Patriarch Bartholomew I in Istanbul, foreign ministry spokesman Hami Aksoy advised the U.S. government to focus instead on "racism, Islamophobia and hate crimes" at home.
"It would be more suitable for the U.S. to first look in the mirror and show the requisite sensitivity towards human rights violations in the country such as racism, Islamophobia and hate crimes," he said in a statement.
Aksoy compared Turkey's religious freedom record favorably with those of other countries
"Turkey's progress in the field of religious freedoms over the past 20 years is widely acknowledged," he said. "Whereas religious minorities throughout the world, and especially Muslims, have been forced to perform their worship under unfavorable conditions and constant threats, non-Muslim Turkish citizens have been able to freely perform their religious duties."
"The freedom of worship of Turkish citizens from different faiths is being protected," Aksoy said. "Consequently, the language employed in the press statement regarding the State Secretary's visit is completely irrelevant."
The State Department press statement was an anodyne readout of Pompeo's trip beginning Friday, which also includes stops in France, Georgia, Israel, the United Arab Emirates, Qatar, and Saudi Arabia.
"Secretary Pompeo will travel to Istanbul, Turkey to meet with His All Holiness the Ecumenical Patriarch of Constantinople, Bartholomew I, to discuss religious issues in Turkey and the region and to promote our strong stance on religious freedom around the world," it said, without elaboration.
Based at St. George's Cathedral, Patriarch Bartholomew is considered the most senior primate in the Eastern Orthodox Church.
President Recep Tayyip Erdogan's government has a poor religious freedom record, according to the State Department and other monitors. The U.S. Commission on International Religious Freedom (USCIRF), an independent statutory watchdog, has long recommended that the State Department place Turkey on a special watch list for religious freedom violations.
American evangelical pastor Andrew Brunson was swept up in a campaign of mass arrests following an abortive coup attempt in 2016, and put on trial for terrorism and spying. Brunson, who had lived and worked in Turkey with his family for more than 22 years before his arrest, was held for two years until finally released and returned home in October 2018. The Trump administration had earlier imposed sanctions on Ankara over his treatment, and the president is believed to have leveraged a cordial relationship with Erdogan to press for the pastor's release.
Last summer Erdogan ignored appeals by Orthodox church leaders and the Trump administration, and reverted Istanbul's Hagia Sophia into a mosque, reversing a 1934 decree that the famed building should operate as a museum. Built in the sixth century, the church was the seat of eastern Christianity for some 900 years before the Ottomans seized and converted it into a mosque in 15th century.
Trump and Vice President Mike Pence met at the White House at the time with the head of the Greek Orthodox Archdiocese of America, Archbishop Elpidophoros, who said afterwards they had expressed their dismay about Erdogan's move, and assured Turkey's religious minorities of their support.
Erdogan later also announced a decision to transform another Byzantine shrine-turned-museum in Istanbul, the Chora Church, into a mosque.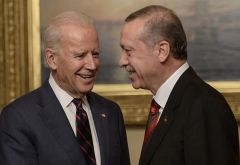 The foreign ministry comments on Pompeo's visit came on the same day Erdogan sent a congratulatory message to Joe Biden.
"I congratulate you on your election success and express my sincere wishes for the peace and prosperity of the people of the United States of America," Erdogan said. "Today, the challenges we face at the global and regional level require us to further develop and strengthen these relations based on common interests and values."
Relations between Turkey and the Obama administration experienced ups and downs.
President Obama called Turkey a "model" Muslim-majority nation, and had a close relationship with Erdogan – despite the then-Turkish prime minister's strong support for Hamas and policies at the time supportive of Iran. Obama in a 2012 interview named Erdogan among a group of world leaders with whom he had been able to forge "friendships and the bonds of trust."
Then-Vice President Biden visited Turkey four times during the Obama administration. But when in a 2014 speech he accused Turkey and Gulf Arabs of supporting jihadists in Syria, Ankara demanded an apology, and Biden obliged – even though his remarks were widely viewed to be accurate.
While campaigning for the presidency, Biden described Erdogan as an "autocrat," drawing sharp criticism from Turkish officials.
ends