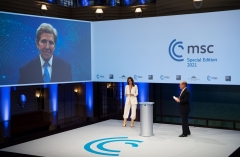 (CNSNews.com) – Climate change special envoy John Kerry told a prestigious European event at the weekend that "largely because of" President Trump, three of the 12 years which "most scientists" said the Earth had left to act to mitigate the worst impacts of climate change had been "wasted."
But the U.S. has now rejoined the Paris climate accord, he told a special event organized by the Munich Security Conference, and had done so with humility, "because we know the United States was inexcusably absent for four years."
"Three years ago,scientists warned that if we want to prevent the worst consequences of the climate crisis, we have to limit the planet's warming to 1.5 degrees Celsius. That's the magic number – by consensus among most scientists," Kerry said.
"The same group of scientists told us that we had,three years ago, about 12 years. So now three years later, three years wasted -- sadly, largely because of our president in the United States -- around 2030 is the date in which we have to get the world now on the right path in order to cap the warming at that level of 1.5."
"So we are absolutely, clearly, without question, now inside the decisive decade."
As secretary of state, Kerry signed the Paris agreement on behalf of the Obama administration. On the upcoming fifth anniversary of that signing, on April 22 – Earth Day – President Biden plans to host a "leaders' climate summit" to push the agenda forward. Kerry said at the weekend representatives of 17 major economies and "several other big emitting countries" would take part.
Ahead of that event, Kerry is calling for greenhouse gas emission-reduction targets far more ambitious than those agreed upon in Paris in late 2015.
The Paris accord aims to prevent average global temperatures from rising more than two degrees Celsius above pre-industrial levels, in a bid to prevent what advocates warn will be catastrophic effects on the planet.
In 2018, however, the U.N. Intergovernmental Panel on Climate Change (IPCC) said that limiting warming to 1.5 rather than two degrees would be necessary – and that the Earth has only until around 2030 to do so. Some activists summarized the warning as "12 years to save the planet," with Rep. Alexandria Ocasio-Cortez (D-N.Y.) saying memorably, "the world is gonna end in 12 years if we don't address climate change."
Kerry told the Munich event that most countries were not meeting even the inadequate commitments made in Paris, and that even if they were, the planet's temperature would still "rise about to 3.7 degrees" Celsius above pre-industrial levels.
"So we have to raise ambition," he said. "That is why President Biden moved to rejoin the Paris agreement hours after he was sworn in,on day one. It is a process that takes 30 days, that means that as of today we are officially back in again."
"But in rejoining, we got to be really honest with each other, we have to be humble, and – most of all – we have to be ambitious," Kerry said. "We have to be honest that as a global community, we're not close to where we need to be. We have to be humble, because we know the United States was inexcusably absent for four years."
"And most of all,we have to be ambitious – all of us– because we have to get the job done."
A U.N. report issued late last year stated that U.S. per capita emissions of greenhouse gases have been steadily declining since 2000, when they were measured at 25 metric tons of CO2 equivalent (tCO2e) per person. By 2019 they had dropped to 20 tCO2e per person.
Over the same period, China's per capita emissions climbed, from around 4 tCO2e in 2000 to about 10 tCO2e in 2019.
Kerry was beaming in to a "special edition" of the Munich Security Conference. The annual conference brings together decision-makers from around the world, but due to the coronavirus pandemic this year's event has been rescheduled for an unspecified later date. Among those that did take part in the virtual version was Biden, and leaders of Germany, Britain, France, and the European Union.
ends