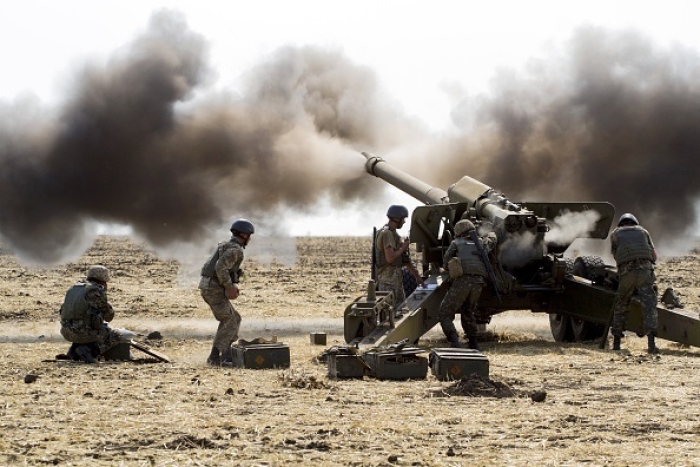 (CNSNews.com) – Russia has warned the West again that it considers weapons to the Ukrainian armed forces to be "legitimate targets," the latest threat coming on the day President Biden announced an additional $800 million in increasingly tailored security assistance to Ukraine.
Senior Russian officials have made similar statements periodically since Russian launched its invasion in late February, and the most recent came from Sergei Koshelev, deputy director of the foreign ministry's North America division.
RIA Novosti quoted him as saying during a ministry round-table on "the crisis in U.S.-Russia relations" that Moscow will view U.S. and NATO arms convoys as "legitimate targets" if they enter Ukrainian territory.
"We are increasingly alarmed by the mushrooming statements by the U.S. administration about their intention to continue massive deliveries of weapons and military equipment for the armed forces of Ukraine, despite the hopeless situation of their Kyiv counterparts," Koshelev said.
"Their calculation is clear: to slow down our special operation and inflict maximum damage on the Russian armed forces," he said, using the Kremlin's euphemistic term for the invasion.
Announcing the latest package of military aid on Thursday, Biden said, "We're sending it directly to the frontlines of freedom, to the fearless and skilled Ukrainian fighters who are standing in the breach."
According to the Pentagon, the eighth "drawdown" package includes 72 M777 155 mm howitzers, 144,000 artillery rounds for the howitzers, and 72 tactical vehicles to tow the artillery pieces.
With an attack range of 20 miles, howitzers are said to be well-suited for the type of combat expected to take place now that Russia has shifted the focus of its assault to the Donbas region of eastern Ukraine, where the territory is more open.
Also in the latest package are more than 121 newly-developed Phoenix Ghost tactical unmanned aerial systems, described by the Pentagon as offering similar capabilities to the Switchblade attack drones that have proven effective against Russian armor.
"It was developed for a set of requirements that very closely match what the Ukrainians need right now in Donbas," said Pentagon spokesman John Kirby, but declined to elaborate further on the features of the new weapon.
The previous arms package, also valued at $800 million and announced on April 13, included a smaller number of howitzers, 300 Switchblade drones, 200 armored personnel carriers, 11 Soviet-designed Mi-17 helicopters, and 500 Javelin anti-tank missiles, among other items.
When he first announced the start of the invasion, President Vladimir Putin warned that "whoever tries to interfere with us, and even more so to create threats for our country, and even more so for our people, should know that Russia's response will be immediate."
Since then, the warnings have become more specific.
"We warned the United States that pumping Ukraine with weapons from a number of countries orchestrated by them is not just a dangerous move, but an action that turns the corresponding convoys into legitimate targets," Deputy Foreign Minister Sergey Ryabkov said in mid-March.
'Fair game'
Shortly after that warning, Russian warplanes launched cruise missiles to target a military training base near the Polish border in western Ukraine, killing 35 Ukrainian soldiers.
The attack may have been intended to send a message to NATO allies: The Yavoriv base, previously used by NATO to train Ukrainian personnel, is located just 65 miles from Rzeszow airport in eastern Poland, where Western arms shipments were being flown in.
While there was no evidence Western supplies were targeted or destroyed in the Yavoriv strike, several days later Foreign Minister Sergei Lavrov told the pro-Kremlin RT network, "We clearly said that any cargo moving into Ukrainian territory which we would believe is carrying weapons would be fair game."
"This is clear because we are implementing the operation the goal of which is to remove any threat to the Russian Federation coming from the Ukrainian soil," Lavrov added.
Earlier this month Russian Ambassador to Washington Anatoly Antonov warned that the provision by the U.S. and Europe of weaponry to Ukraine could potentially lead to open conflict between the U.S. and Russia.
"We warn that such actions are dangerous and provocative as they are directed against our state," Antonov told Newsweek. "They can lead the U.S. and the Russian Federation onto the path of direct military confrontation. Any supply of weapons and military equipment from the West, performed by transport convoys through the territory of Ukraine, is a legitimate military target for our armed forces."
On the same day as the interview was published, the Pentagon announced that Slovakia had given the Ukrainians its S-300 battery, a Soviet-era air defense system that can defend against both aircraft and cruise missiles.
Slovakia, a NATO ally that shares a short border with Ukraine, did so after the U.S. agreed to reposition a Patriot air defense system to Slovakia, to help secure its airspace in the absence of the S-300.
Three days later, Russia's defense ministry claimed to have destroyed a cache of S-300 missiles concealed in a hangar in the central Ukrainian city of Dnipro, in a series of precision strikes by sea-launched Kalibr cruise missiles.
It said the S-300s had been supplied to Ukraine by a European country, without specifying whether it was referring to Slovakia.
A Slovak government spokesperson denied that its S-300 had been destroyed, and Slovak Prime Minister Eduard Heger called the Russian claim a "hoax."
At the Pentagon, a senior Defense official confirmed that a Russian airstrike had destroyed some infrastructure in the area, "but we have no evidence to conclude that they destroyed an S-300 system, and we have no evidence to conclude that it was, in fact, the Slovakian one."
State Department spokesman Ned Price said on Thursday that the U.S. will continue to work with NATO allies "to see to it that elements that they may have in their inventories, that are responsive to the needs that we're hearing from our Ukrainian partners, are made available to Ukraine."