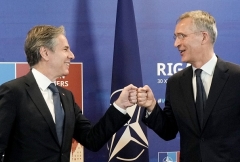 (CNSNews.com) – Any further Russian aggression against Ukraine will "come at a high price," NATO Secretary-General Jens Stoltenberg warned on Tuesday.
But when asked if the alliance would respond militarily, he focused on deterrence, and alluded to the fact that Ukraine isn't covered by NATO's collective defense guarantees.
Addressing reporters on the sidelines of a meeting of NATO foreign ministers in Riga, Latvia, Stoltenberg said the alliance needs to be ready for the eventuality that Russia will once again invade Ukraine. He expressed hope it would not do so, but said "we need to be prepared for the worst."
Pointing to a "significant and unusual concentration of [Russian] forces" near Ukraine's borders, he said NATO ministers were "united in our aim to deter Russia from any further aggressive actions."
"Any future Russian aggression against Ukraine would come at a high price, and have serious political and economic consequences for Russia."
Stoltenberg was pressed to elaborate.
"You warned of a high price Russia would pay if it did carry out an incursion into Ukraine," a reporter said. "But then you talk about economic and political consequences. So is it right to assume there would be no military response?"
Without answering the question directly, Stoltenberg characterized NATO's practical and material support for Ukraine's armed forces as a bid to deter aggression by raising the costs for Russia.
"Allies provide training, capacity building, and also military capabilities, equipment," he said. "This increases the threshold for Russia to conduct military aggressive actions against Ukraine."
Earlier Tuesday, Secretary of State Antony Blinken – in Riga for the meetings – expressed concern again about Russia's "recent buildup of forces, its unusual troop movements along Ukraine's border."
"Any escalatory actions by Russia would be of great concern to the United States, as they would to Latvia, and any renewed aggression would trigger serious consequences," Blinken said alongside his Latvian counterpart.
What those "consequences" would be, however, remain unclear.
Unlike NATO's 30 allies, Ukraine as a non-member is not covered by article five of the North Atlantic Treaty, which holds that an attack on any member is considered an attack on all.
During his interactions with the media on Tuesday, Stoltenberg several times drew a distinction between Ukraine, a "partner," and members of the alliance which fall under its umbrella of protection.
"I think it is important to distinguish between NATO allies and partner Ukraine," he said on one occasion. "NATO allies, there we provide article five guarantees, collective defense guarantees, and we will defend and protect all allies."
Ukraine on the other hand was "a partner – a highly valued partner," which receives political and practical support from NATO.
"But as I said, there's a difference between a partner, Ukraine, and an ally, like for instance Latvia."
Elusive consensus
Ukraine has for more than a decade sought to join the transatlantic alliance but its aspirations, along with those of fellow former Soviet republic Georgia, have been stymied by a combination of required reforms and, especially, the reluctance of some members to risk angering Russia, a major provider of energy to Europe.
NATO operates on consensus, and the opposition of allies like Germany has stood in the way of Ukraine and Georgia being put on a formal path to membership by being offered "membership action plans."
Instead, the two aspirants have been assured, at every NATO summit since one in Bucharest in 2008, that they "will become members" of the alliance – at some future, unspecified, date.
Critics argue that that failure to act emboldened the Kremlin to send troops into Georgia in 2008 – four months after the Bucharest summit – and Ukraine in 2014, purportedly to defend pro-Russian separatists.
Georgia lost control over one-fifth of its territory in that short war, and Ukraine's Crimea remains under Russian occupation, even as Moscow continues to support separatists in eastern Ukraine's Donbass region.
"It's been 13 years now since NATO said that Ukraine would join NATO," a reporter noted to Stoltenberg. "By delaying further, is NATO simply not just giving [Russian President Vladimir] Putin what he wants?"
After reiterating support for Ukraine to be put on a path to membership, Stoltenberg pointed again to the consensus requirement – the need for all 30 allies to agree that it is ready begin the process.
He also insisted that Russia "has no veto, no right to interfere in that process."
Asked on Tuesday if a military incursion into Ukraine was possible, Putin recalled that Russian military exercises near its borders with Ukraine earlier this year had stoked similar talk of an invasion threat, "but, as we see, it didn't happen."
"It is not about moving troops in or not, not about waging a war or not," Putin said during an investment forum. "It is about establishing relations on [the] creation of a more fair, sustainable development and consideration of security interests of all actors."
If all parties honestly aspire to that, he said, then "nobody will experience any threats."
Putin also complained, again, of NATO military exercises near Russia's borders, including in the Black Sea area.
He warned that any NATO deployment of troops or weapons in Ukraine would be "a red line for us," but voiced the hope that "common sense" on the part of the West would prevail.