(CNSNews.com) – The Pentagon on Tuesday dismissed as not "tenable" a Polish plan to send its MiG fighter jets – which Ukraine wants to use to defend its airspace from Russia – to an American airbase in Germany and "place them at the disposal of the government of the United States of America."
The unexpected offer to hand over its MiG-29 jets to the U.S., which presumably would then deliver them to Ukraine's embattled armed forces, appeared to have caught the administration by surprise.
Asked about the announcement while testifying before the Senate Foreign Relations Committee, undersecretary of state for political affairs Victoria Nuland said as far as she was aware, "it wasn't pre-consulted with us that they planned to give these planes to us."
"So I think that actually was a surprise move by the Poles."
As it presses on with its invasion, Russia has issued various warnings about outside military support for Ukraine.
President Vladimir Putin said enforcement of a no-fly zone would have "colossal and catastrophic consequences not only for Europe, but for the entire world," and the defense ministry warned that neighboring countries allowing Ukrainian warplanes to use their airbases would be considered participants in the war.
Ukrainian pilots fly MiG-29s, and they are also in the air force arsenals of NATO allies Poland, Bulgaria and Slovakia. But flying them from NATO territory into the contested Ukrainian airspace could risk provoking Russia and spark a wider conflict.
"Poland's proposal shows just some of the complexities this issue presents," Pentagon Press Secretary John Kirby said in a statement.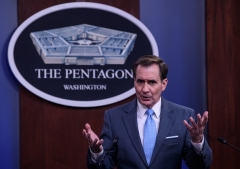 "The prospect of fighter jets 'at the disposal of the government of the United States of America' departing from a U.S./NATO base in Germany to fly into airspace that is contested with Russia over Ukraine raises serious concerns for the entire NATO alliance," he said.
"It is simply not clear to us that there is a substantive rationale for it. We will continue to consult with Poland and our other NATO allies about this issue and the difficult logistical challenges it presents, but we do not believe Poland's proposal is a tenable one."
In its announcement, the Polish foreign ministry said Poland was "ready to deploy – immediately and free of charge – all their MiG-29 jets to the Ramstein Air Base and place them at the disposal of the government of the United States of America."
"At the same time, Poland requests the United States to provide us with used aircraft with corresponding operational capabilities. Poland is ready to immediately establish the conditions of purchase of the planes."
The ministry said Poland asked other NATO allies that operate MiG-29s "to act in the same vein."
On Monday, White House press secretary Jen Psaki pointed to some of the difficulties of getting warplanes from NATO territory into Ukraine.
"There are a number of challenging practical questions, including how the planes would actually be transferred from Poland to Ukraine. Right? So, are they going to fly? Where will they depart from? Where will they land? Those are all very important questions here."
"There is a airbase that is a NATO airbase in Poland," Psaki said. "If you have plans -- planes departing from there, that's – that could be a challenging circumstance."
While visiting Moldova the previous day, Secretary of State Antony Blinken told CBS' "Face the Nation" that the U.S. has given "a green light" should a NATO member like Poland want to send its fighter jets to Ukraine.
He said the U.S. was in active discussions with the Poles about how the U.S. could "backfill" their air defense needs, if they sent their MiGs to Ukraine.
'Giving Ukrainians the wherewithal to fight … is clearly desirable'
At the Senate hearing, committee Chairman Sen. Bob Menendez (D-N.J.) noted that the Poles have now said that they are willing to hand over their jets.
"The one thing that we have heard consistently is a call for a no-fly zone. I understand the challenges of that – NATO and other countries not willing to engage in a direct conflict with Russia – but giving Ukrainians the wherewithal to fight over their own airspace and to be able to have some control over their airspace is clearly desirable."
"So now that Poland has made this decision, and it would be my hope that other countries in the region as well, that we would be forward leaning in finding a pathway forward," Menendez said.
"Because the one thing about all of this is, time is of the essence. If we are going to make a difference, time is of the essence."
At a background briefing on Tuesday, a senior Pentagon official gave an updated assessment of the situation in the Ukrainian airspace.
The official said the Russians have not achieved air superiority over the entire country as of now, although "nearly all of the country of Ukraine is in some way or another under the umbrella of Russian surface-to-air missile capabilities."
Meanwhile, "the Ukrainians still have at their disposal viable and effective air and missile defense, and they are still able to and are flying aircraft in that very contested airspace."
"It remains contested," the official said. "Russians don't have air superiority, and both air forces are still flying sorties every day – not to mention their missile capabilities."
According to Flight Global's World Air Forces Directory 2022, Ukraine has 43 MiG-29s in service (not taking into account the current war), Poland has 23, Bulgaria 11, and Slovakia 10. Russia has 240 MiG-29s and successor MiG-35s.