(CNSNews.com) – An almost year-long dispute in Washington over how best to respond to a Russia-to-Germany gas pipeline that has attracted bipartisan opposition in Congress is coming to a head, as the Senate prepares to vote on a new sanctions bill opposed by the Biden administration.
The administration maintains that it views the natural gas pipeline as "a harmful Russian geopolitical project," but it also argues that sanctioning the project's key players – including the Nord Stream 2 AG company owned by Russian gas giant Gazprom – will upset Germany, an important ally.
So instead, it waived such sanctions last year on "national interest" grounds, and reached an understanding with Germany's former Merkel government which it said would mitigate the risks that the Kremlin would use its energy supplies as a political weapon, particularly against Ukraine.
That approach exasperated Republican opponents of Nord Stream 2, and Sen. Ted Cruz (R-Texas) for months held up diplomatic and ambassadorial nominees in a bid to force the administration to impose congressionally-mandated sanctions against the project.
Last month Cruz struck an agreement with the Democratic majority, agreeing to lift his holds on several dozen nominees in return for a Senate vote on his new sanctions bill by January 14.
On Thursday, however, the State Department signaled its opposition to Cruz's bill, saying that it would undermine a united U.S.-European front in its response to Russia's troop buildup near Ukraine's borders.
"Our concern is that, if passed, the legislation would only serve to undermine unity amongst our European allies at a crucial moment when we need to present a unified front in response to Russian threats against Ukraine," spokesman Ned Price told a briefing.
"It is critical to ensure maximum transatlantic unity in addressing the potential Russian threat to Ukraine," he said. "Russia would interpret any daylight in our position, stemming from sanctions on Nord Stream 2, as an opportunity to exploit a fissure in the transatlantic relationship, and this administration is determined not to give them that."
The teed-up Senate vote is due to take place during a week of stepped-up diplomacy between Russia and the West relating to Ukraine and broader European security concerns, with three sets of meetings scheduled in three European cities.
The $11 billion Nord Stream 2 project has become closely linked to the Russia-Ukraine and broader Russia-NATO tensions.
Notwithstanding Price's suggestion that imposing U.S. sanctions against the pipeline operators now could strain "the transatlantic relationship," support for Nord Stream 2 is in fact far from universal in Europe.
Formerly communist nations in central and eastern Europe oppose the pipeline and the European Parliament has by large margins adopted motions, three times, calling for it to be scrapped, most recently a year ago. Ukrainian lawmakers have urged the U.S. Congress to bring the project to a halt.
On the other hand Germany, Austria, and others have championed Nord Stream 2 as a crucial element in helping to meet the continent's energy needs, especially as economies transition away from fossil fuel sources.
Work on the pipeline was held up for a year – as a result of the threat of sanctions under legislation signed into law by President Trump – but it resumed after the 2020 U.S. presidential election. The Biden administration argued that the project was too far advanced to stop, and its decision last May to waive sanctions against the main parties enabled it to continue.
The pipeline from Russia to Germany under the Baltic Sea is now complete, although gas cannot flow until Germany's federal regulator gives the green light.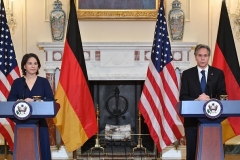 Secretary of State Antony Blinken said last month that it was hard to see the pipeline becoming operational if Russia invades Ukraine – a remark he repeated alongside his German counterpart this week.
But Ukrainian President Volodymyr Zelensky has called for sanctions to be imposed on Nord Stream 2 preemptively, to deter Russian aggression, rather than only in the event of a military invasion.
The Cruz legislation would impose asset freezes and travel bans on Nord Stream 2 entities and individuals within weeks of being signed into law. And if the president waives the measures, the legislation allows lawmakers to vote to reinstate them.
The bill will need 60 votes to pass and some key Democrats, despite being opposed to Nord Stream 2, have indicated they will likely not support a measure opposed by the Democratic administration.