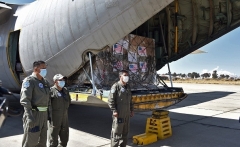 (CNSNews.com) – The United States has donated more COVID-19 vaccine doses to nations in need  than all other donor countries combined, President Biden said on Tuesday, citing United Nations data.
"As of today, the United States has shipped over 110 million doses of U.S. vaccines to 65 countries that are among the hardest hit in the world," he told reporters at the White House.
"According to the United Nations, this is more than the donations of all 24 countries that have donated any vaccine to other countries, including China and Russia – all those nations combined."
"These vaccine donations from America are free," Biden stressed. "We're not selling them. There are no demands, no conditions, no coercion attached. And there is no favoritism and no strings attached."
Biden earlier this year announced plans to donate more than 580 million vaccine doses to countries around the world. According to updated figures from the State Department, as of late Tuesday the total number of U.S.-donated vaccines delivered abroad was 111.7 million.
Biden laid out two main reasons for the move – since the virus does not respect borders, protecting the world helps to protect America; and democracies need to show the world that they can "deliver."
"Just like the original virus that caused COVID-19, the Delta variant came from abroad," he said. "As long as the virus continue to rage out – rage outside the United States, potentially more dangerous variants could arrive at our shores again."
"In the race for the 21st century between democracies and autocracies, we need to prove that democracies can deliver," Biden said.
For months, China and Russia have been publicizing their provision of vaccines to mostly developing countries.
Both have developed their own coronavirus vaccines. The leading products are Sinopharm and Sinovac in China, and Sputnik V in Russia, although others are also in production.
The two Chinese vaccines are among the seven approved by the World Health Organization; the Russian one has yet to win WHO approval, although more than 50 countries have placed orders to buy doses.
China in particular has made much of the large number of vaccines it has sent to nations around the world, declaring repeatedly that its policy is to make vaccines a global "public good."
The vast majority of vaccines China has provided to other countries have been sold rather than donated, however.
According to data tracked by the Beijing-based health sector consultancy Bridge Consulting, as of Tuesday China has sold to other countries 952 million doses of Chinese-made vaccines, and has donated 33 million.
China has donated 24.5 million doses to countries in the Asia-Pacific and 7.2 million to countries in Africa.
The biggest buyers of Chinese vaccines, meanwhile, have been countries in the Asia-Pacific (407 million doses) and Latin America (366 million doses).
Russia has reportedly donated a total of one million doses of its vaccines to a small number of countries, including Angola, Armenia, Belarus, Laos, Lebanon, Moldova, Nicaragua, Uzbekistan, Vietnam, and Zimbabwe.
Making a profit
Most of the vaccines China and Russia have donated have been via bilateral rather than multilateral channels such as COVAX, a financing instrument helping provide vaccines to low- and middle-income countries.
COVAX, a joint project of the Global Vaccine Alliance (GAVI), the Coalition for Epidemic Preparedness Innovations (CEPI), and the WHO, was launched with a goal of providing two billion vaccine doses by the end of 2021 – a target date since moved back to early 2022.
China joined COVAX last October, and early this year said it would provide the initiative with 10 million vaccine doses.
But last month, GAVI announced it had struck an agreement to buy 110 million doses of Chinese-made vaccines through the fall of this year, with an option to buy a combined 440 million more by the middle of 2022.
When the deal was raised during a Senate Foreign Relations Committee hearing last month on the U.S. Agency for International Development budget request, USAID Administrator Samantha Power agreed with ranking member Sen. Jim Risch (R-Idaho) when he criticized China's actions.
"It is appalling that Beijing chose to make a profit on those vaccines rather than to contribute financially to COVAX or to donate its state-owned doses to COVAX to reach people in their hour of desperate need," she said.
Power defended COVAX's decision to buy the Chinese vaccines, pointing to severe delays in deliveries of others amid a "raging pandemic," but added that that was "no excuse" for China's behavior.
The U.S. has contributed more to the COVAX coffers than any other donor country, having pledged $4 billion. Other major donors include Germany (pledged $1 billion), Japan ($800 million), and Britain ($672 million).
Neither China nor Russia have pledged financial contributions to COVAX.
Chinese officials frequently conflate the number of vaccine doses China has donated to other countries with the number it has sold.
During a teleconference meeting Tuesday with his counterparts in the ten-member Association of Southeast Asian Nations (ASEAN), for example, Chinese Foreign Minister Wang Yi said China has already "provided" more than 190 million doses of COVID-19 vaccine to ASEAN countries.
But according to data compiled by Think Global Health, China has donated only around 5.1 million doses to five ASEAN members. (Figures compiled by Reuters put the number at 5.6 million doses, donated to six ASEAN members.)
In comparison, according to figures released by the White House on Tuesday, the U.S. has already delivered a total of 23.8 million (free) doses to seven ASEAN members.
According to Our World in Data statistics, 14.8 percent of the world's 7.9 billion people have been fully vaccinated against COVID-19 to date, although only 1.1 percent of people in low-income countries have received at least one dose.