(CNSNews.com) – Unhappy with the U.S. and allies' focus on upholding a "ruled-based order" in international affairs, China and Russia are helping to spearhead a response at the United Nations by mobilizing like-minded nations around the flag of purportedly upholding the U.N. Charter.
The "Group of Friends in Defense of the Charter of the United Nations," an initiative launched earlier this year, held its first ministerial-level meeting on the sidelines of the U.N. General Assembly high-level session last month.
In a subsequent letter to U.N. Secretary-General Antonio Guterres, 17 U.N. member-states plus the "state of Palestine" asked him to circulate a political declaration they adopted, and noted that it remains open for other members to sign up to.
More than half of the founding members of the "group of friends" are targeted by U.S. sanctions – Belarus, China, Cuba, Eritrea, Iran, Nicaragua, North Korea, Russia, the Assad regime in Syria, and the Maduro regime in Venezuela.
The governments argue that unilateral sanctions and the threat of force are contrary to the U.N. Charter, whose principles, they say, are "timeless" and "indispensable" to "achieving a more peaceful, prosperous, just and equitable world."
The declaration said the ministers met to assess "recent developments in the international arena, including challenges and threats to the Charter."
"We vow to spare no effort in preserving, promoting and defending the prevalence and validity of the Charter," the signatories said. "We express our serious concern at the growing resort to unilateralism."
Renewing a firm commitment to "reinvigorated multilateralism," the governments voiced support for "nations and peoples subjected to unilateral and arbitrary approaches."
They further reiterated the "inalienable right of peoples to self-determination, as well as the territorial integrity and political independence of all nations."
The U.N. Charter prohibits "the threat or use of force against the territorial integrity or political independence of any state," while providing an exception for self-defense in the event of an armed attack.
The same document states that one of the U.N.'s main objectives is "promoting and encouraging respect for human rights and for fundamental freedoms."
Of the 18 signatories to the "group of friends" initiative, only one (Saint Vincent and the Grenadines) is graded "free" in Freedom House's annual assessment of countries' political rights and civil liberties, and one (Bolivia) is graded "partly free." The rest are all ranked as "not free."
"Trusting China, Iran, Syria, North Korea, Cuba and Venezuela to be defenders of the United Nations Charter is like asking Col. Sanders to babysit your chickens," Hillel Neuer, executive director of the non-governmental organization U.N. Watch, commented in response to the initiative.
'A fairer international order'
The "rules-based international order" has been broadly defined as a framework of liberal political and economic norms established after World War II, centered on multilateral institutions, international trade, and promotion of human rights.
As recently as 2018, G20 leaders at a summit attended by Presidents Trump, Vladimir Putin, and Xi Jinping included in a declaration a "commitment to work together to improve a rules-based international order that is capable of effectively responding to a rapidly changing world."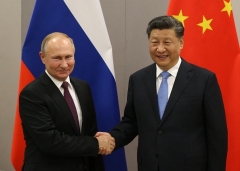 But Russia and China have become increasingly critical of the concept, accusing the U.S. and its allies of shaping it to their own interests, at the expense of others. A China Daily editorial early this year described China and Russia as "key promoters of a fairer international order based on the Charter of the United Nations."
On the eve of the first face-to-face interaction between the Biden administration and the Chinese government, in Alaska last March, China's foreign ministry said the U.S. and its allies were "not entitled to define what the international order is, still less to impose their standard on others."
"There is only one set of rules, and it is the basic norms governing international relations with the U.N. Charter as its cornerstone."
At the Alaska talks, Secretary of State Antony Blinken in his opening remarks defended and stressed the importance of the "rules-based international order."
"That system is not an abstraction; it helps countries resolve differences peacefully, coordinate multilateral efforts effectively, and participate in global commerce the assurance that everyone is following the same rules," he said.
"The alternative to a rules-based order is a world in which might makes right, and winners take all. And that would be a far more violent and unstable world for all of us."
Citing concerns about Chinese policies relating to Xinjiang, Hong Kong and Taiwan, as well as cyber-attacks on the U.S. and economic coercion towards U.S. allies," Blinken said "each of these actions threaten the rules-based order that maintains global stability."
His Chinese interlocutors hit back with lengthy criticism, accusing the U.S. of wielding its economic and military might to squeeze other countries, and failing to deal with its own human rights problems while criticizing others.
At a virtual U.N. Security Council meeting at foreign minister level two months later, Blinken said while the U.S. sought to work with countries, including those it has serious differences with, it would "continue to push back forcefully when we see countries undermine the international order, pretend that the rules we've all agreed to don't exist, or simply violate them at will."
Pushing back, his Russian counterpart, Sergei Lavrov, accused Western nations of developing their own "rules" and trying to impose them on everyone else.
At back-to-back G7, NATO and U.S.-E.U. summits in June, references to the "rules-based" order featured numerous times in all three outcome documents.
The following month, Russian foreign ministry spokeswoman Maria Zakharova slammed "attempts to replace the current international legal architecture with such infamous constructs as a rules-based international order." A ministry transcript added the words "Western concept" in brackets.
Late last month, commenting on the first face-to-face summit of the Quad – the U.S., Japan, India, and Australia – hosted by President Biden at the White House, Chinese foreign ministry spokeswoman Hua Chunying said, "For some time, these countries have been keen on insinuating China with the so-called 'rules-based order.'"
"What most countries in the world recognize and accept is the international system with the U.N. at its core," she said, "rather than the so-called 'order' unilaterally defined by one or few countries."
"Numerous facts have shown that the U.S. wants an order in which it wantonly defies, coerces and interferes with other countries without paying any price," Hua said. "It is an order in which U.S. hegemony and bullying prevail, while the whole world grovels to the U.S."