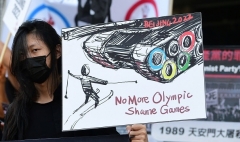 (CNSNews.com) – Biden administration officials have spoken periodically for ten months about consultations with "partners and allies" over the Beijing Olympic games, but Secretary of State Antony Blinken this week had no update to offer.
With 12 weeks now to go until the February 4 opening ceremony, Blinken was asked on Wednesday if there was a deadline to make a decision on whether or not to participate in the 2022 Winter Games.
"Well, let's see. The games are coming up when, in – early in the year," he said with a smile. "So, before then."
Citing mass-scale human rights violations in Xinjiang, the stifling of democracy in Hong Kong, and other Chinese policies and actions, lawmakers and human rights campaigners around the world are calling on countries either to stay away completely or to send athletes but not government representatives to the event – a so-called diplomatic boycott.
During a remote interview for the New York Times DealBook Summit, host Andrew Ross Sorkin asked Blinken about the situation.
"You said earlier this year that you were consulting with allies about the Olympic Games that are going to be taking place in Beijing in 2022," Sorkin said. "And I was curious if there's an update on that and whether you think that U.S. athletes should be participating in the games given that the United States has, in your words, described China as being involved in genocide."
"We are talking to allies, to partners, to countries around the world about how they're thinking about the games, how they're thinking about participation," Blinken replied. "It's an active conversation. We're coming up on the games, but let me leave it at that for today."
As early as February 11, State Department spokesman Ned Price reported that the administration was "consulting closely with our allies and our partners at all levels to define our common concerns" regarding China and the Olympics. "We are in early 2021. We will have plenty of time to talk about 2022 as – in the ensuing months."
A month later, Blinken told a Japanese TV station that a decision on participation would be made "at the appropriate time."
"We've heard the many concerns around the world about the prospect of those Olympics, given the actions that China has taken both at home in terms of its abuse of human rights when it comes to the Uyghurs in Xinjiang, other minorities, or, of course, what's happening in Hong Kong, the increasing tensions as a result of its actions on – with regard to Taiwan," he said during a visit to Tokyo.
"And we've heard a lot of those concerns, and we will continue to talk to other countries around the world to hear what they're thinking," Blinken said. "And at the appropriate time we'll decide what to do. But for now, we're just listening to the concerns we've heard expressed from many countries around the world."
In early May, Blinken addressed the issue again: "We're still a ways away from the Beijing Olympics, something that we'll look at in the months ahead.  We'll certainly talk to other countries, to allies and partners, to get their perspective, but that's not something we've focused on yet."
Through the summer, the department made similar comments about "consultation with allies and partners," with Price saying in mid-August, "I don't want to get ahead of where we are, given that we still have some time to go."
In July the European Parliament voted in favor of a diplomatic boycott of the games, and Britain's House of Commons has taken a similar stand.
On Capitol Hill, calls for various types of boycott have come from both sides of the aisle. Half a dozen measures have been introduced, calling the International Olympic Committee to move the games to "a country that recognizes and respects human rights"; expressing the sense of Congress that the U.S. should lead an international boycott if Beijing remains the host city; or targeting corporate sponsors of the games.
Critics of the Chinese state say the Chinese Communist Party (CCP) was emboldened by Beijing's hosting of the Summer Games in 2008, and that the IOC squandered the opportunity to use that event to pressure the government to respect human rights.
IOC President Thomas Bach told the U.N. Human Rights Council last summer that the organization has to remain politically neutral, and "cannot solve human rights issues which generations of politicians were unable to solve."

See also:
Rally in D.C. Urges Boycott of Beijing 2022 Winter Olympics (Jul. 14, 2021)
State Dept: 'Not Going to Offer Advice to US Companies From This Podium' on Boycotting Beijing Games (Apr. 7, 2021)
Blinken: We'll Hear What Other Countries Are Thinking Before Deciding on Beijing Olympics Boycott (Mar. 18, 2021)