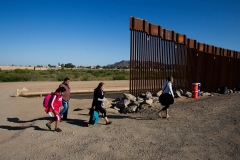 (CNSNews.com) - Drug cartels and human traffickers are getting rich bringing people and contraband across the wide-open southern border, and that poses serious risks for the Mexican government, Rep. Darrell Issa (R-Calif.) told Fox Business Network on Tuesday.
Issa is among the lawmakers who are urging Vice President Kamala Harris to visit the border to see the crisis for herself:
You know, if the vice president would listen to Border Patrol or ICE agents, she would stop it today. When they tell me, with specificity, how much money the cartels are getting now -- not just from those drugs but in fact from human trafficking -- and realizing -- and this is what the secretary's going to hear in Mexico City -- is, the cartels never had so much revenue and been so much empowered to, quite frankly, destabilize the Mexican government. And that's one of the side effects we're going to see.

But as you say, the human tragedy is growing, that's clear, but it's because there's a policy that's being executed that, in fact, this administration wants. They want to have those hundreds of thousands of additional immigrants who came here without permission, got let in, and will be here for years to come.

This is a policy decision that has consequences, but let's not kid ourselves. This is clearly a policy decision that's being executed right before our eyes.
Issa noted that most single men, particularly those from Mexico, are turned away, unless they manage to evade Border Patrol agents.
But all they have to do is come in as a family unit from anywhere, and they are going to be let through. So the word is out. It may continue for the rest of this year -- to be a million turned back and a million let in, or 900,000 let in, but the goal by this administration clearly seems to be, those 900,000 people, families, that are going to be let in this year are going to be allowed to essentially immigrate to this country under the guise that they're coming in as refugees when in fact it's very clear -- they're coming in for the economic opportunity. 

You know, the vice president said she was a going down to those three countries, to find out about what the causes were. There were over 100 countries where people have immigrated here from, illegally, this year.

Those countries include Romania, China -- the list goes on --all of Africa.  Clearly, they're coming for a reason, which is, this country is a great place to come to. The problem is, we used to have rules that let you immigrate here by getting in line.  We no longer respect those rules.
The Biden administration has halted construction of Trump's border wall and ended Trump's remain in Mexico policy.
Although Kamala Harris last week told would-be illegal immigrants, "Do not come," they're coming by the tens of thousands -- more than 180,000 in the month of May alone.
On June 8, the U.S. State Department issued a level 3 (out of a possible 4) warning, advising Americans to "reconsider" travel to Mexico because of COVID and crime:
"Violent crime – such as homicide, kidnapping, carjacking, and robbery – is widespread. Armed criminal groups have been known to target and rob commercial vessels, oil platforms, and offshore supply vessels in the Bay of Campeche," the advisory said.
"The U.S. government has limited ability to provide emergency services to U.S. citizens in many areas of Mexico, as travel by U.S. government employees to certain areas is prohibited or significantly restricted."