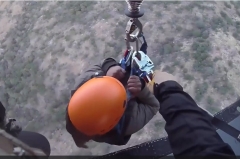 (CNSNews.com) - Members of the U.S. Customs and Border Protection Air and Marine Operations worked with Border Patrol agents on Monday to rescue an illegal alien woman from the top of a mountain in southern Arizona.
The rescue was captured on videotape by the agency.
"An Air and Marine Operations (AMO) air crew, partnering with Border Patrol Agents, rescued a female undocumented migrant in distress in the Baboquivari Mountains near Tucson, Arizona, January 10, 2022," said a release from CPB.
The Baboquivari Peak Wilderness is about 50 miles southwest of Tucson and about 25 miles north of the Mexican border.
"Border Patrol agents encountered the severely dehydrated woman and determined that she was physically unable to continue walking," said the CBP. "The air crew, aboard a H-60 Black Hawk helicopter, performed hoist iterations to rescue the medically distressed female, and to extract the Border Patrol agents off the mountain."
The video of the incidents, recorded form just inside the open door of the hovering helicopter, shows two Customs and Border Patrol agents being lowered to the mountain top by a rope so they can help the woman.
It then shows her being safely hoisted back up into the helicopter after they have secured her to the rope.
"The female was transported to a forward operating base and transferred to medical personnel," said CBP.
"CBP has calculated over 338,000 encounters along the southwest border in the first quarter of fiscal year 2022," it said.
"An Air and Marine Operations (AMO) Blackhawk crew, assigned to the Tucson Air Branch, responded to a call from USBP agents to help extract the woman," said another CBP statement on the incident. "The air crew located her near Baboquivari Peak, where rugged terrain forced them to perform a hoist extraction of the migrant and two Tucson Sector Border Patrol agents who had hiked to her location."
"This was another textbook rescue of a migrant in distress,' said William H. Robinson, who serves as deputy director of the Tucson Air Branch. "We work closely with our colleagues from Border Patrol to bring a bad situation to a successful conclusion."