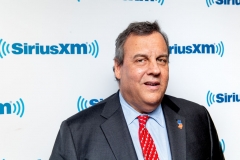 (CNSNews.com) – Former New Jersey Gov. Chris Christie said during a panel discussion on ABC's "This Week with George Stephanopolous" on Sunday that mayors of towns where rioting is taking place "are too politically timid" to address those behaviors, so President Donald Trump has to deal with it.

"And if the mayors of those towns are too politically timid to address people who are defacing and destroying their cities, then the president of the United States has to deal with it, and so I do think it's an effective thing to do. I don't know whether it's going to make sense politically or not for him, George, but it's his responsibility, as president, if the mayors are willing to walk away from their own responsibility, not to support peaceful protests, but to stop violent riots," he said.

"Americans understand and understood the rightful peaceful protests that were going on throughout the country in the aftermath of George Floyd's murder, and you see it happening peacefully all across the country," Christie said.

"Baseball started this week. You saw baseball players across the nation kneeling prior to the National Anthem and showing other symbols in terms of signs on the field, patches on their uniforms, to remind people about how important this issue is to be dealt with in this country and dealt with effectively," he said.

He said that most American's don't believe that the riots in Portland, Seattle and other places nationwide "that are causing destruction and injury and in some cases death are acceptable."

Former Chicago Mayor Rahm Emanuel said it's "ironic" that the Trump administration is withholding federal grants for police departments yet they say they're for law and order. 

"One is, you have to be very clear. The police and the superintendent of that police department are in charge, because the federal operation undermines community policing. If they're there in coordination with the local police department, and the police department is in charge, that's one aspect of how to deal with crime or, in the situation of Portland and Seattle, destruction of federal property," he said.

"Second is, I think it's a bit ironic for the administration on two points. One is, they're holding Byrne Grants for the federal -- for police departments across the United States for the last three years, and now to say all of a sudden they're for public safety and for law and order is a bit ironic," Emanuel said.

"Second is, I don't understand the Republicans. Somehow, wearing a mask is an infringement on your personal liberties and freedoms, but sending in paramilitary troops uphold American values. That will never work," he said.

Republican strategist Sara Fagen took issue with Emanuel calling federal agents "paramiitary," calling it "sort of insulting."

"Well, I will show you the pictures, Sara," Emanuel said.

"They're federal agents protecting a courthouse that the rioters are trying to burn, in some cases, with federal officials inside. Look, make no mistake about it. These mayors on the West Coast have abdicated their leadership. I don't think the federal government has any choice but to go protect federal property," Fagen said.