(CNS News) -- In a new survey on President Joe Biden's job approval, results show that Biden has lost support among every subgroup of Americans cited by Gallup except one.  His job approval has fallen across the board. 
For instance, Gallup emphasizes that among Generation Z (born 1997-2004), Biden's job approval back in Jan.-June 2021 was 60%, Biden's "honeymoon" period.  However, now, in the period Sept. 2021 - March 2022, his job approval is only 39% among Generation Z, a drop of 21 points.
For Millenials (born 1981-1996), Biden had a 60% approval during the political honeymoon time, but now only 41% of Millenials approve of the job he is doing, a decline of 19 points. 
For all U.S. adults, his job approval has fallen 14 percentage points, from 56% to 42%.
Black and Hispanic adults also think less of Biden's job performance. As reported by Gallup,  "Early in Biden's term, 87% of Non-Hispanic black adults approved of the job he was doing. That fell to 74% in the summer of 2021 and is now at 67%,  20 points lower than in the early stages of his presidency."
"Among Hispanics, Biden's job approval has slumped from 73% in early 2021 to 52% now, a 21-point fall," said Gallup.
The survey firm also lists Biden's decline in a variety of subgroups.
For instance, among men, Biden's job approval rating fell from 49% in early 2021 to 38% now, a decline of 11 points.  Among women, the job approval fell from 62% to 46%, a drop of 16 points.
For people 18-29 years old, Biden's job approval is 38%, down 23 points since early 2021. For people 30-49 years old, Biden is down 17 points; 50-64 years old, down 9 points; 65+ years old, down 5 points. 
Among white adults, Biden's job approval is now at 35%, down 10 points from early 2021. 
For adults with high school diplomas or less, his approval rate is at 37% -- down 15 points. For people with college degrees, down 13 points; among postgraduates, down 10 points.
For people making less than $40,000 a year, Biden's job approval is 44%, which is down 18 points since early 2021. For middle income ($40,000-$99,999), it's down 13 points; upper income ($100,000 or more), it's down 12 points.
For more of the data, see box below.  The only subgroup that expressed no change was the Traditionalist Generation (born before 1946). They gave Biden a 48% job approval in early 2021, the same percentage they give him today.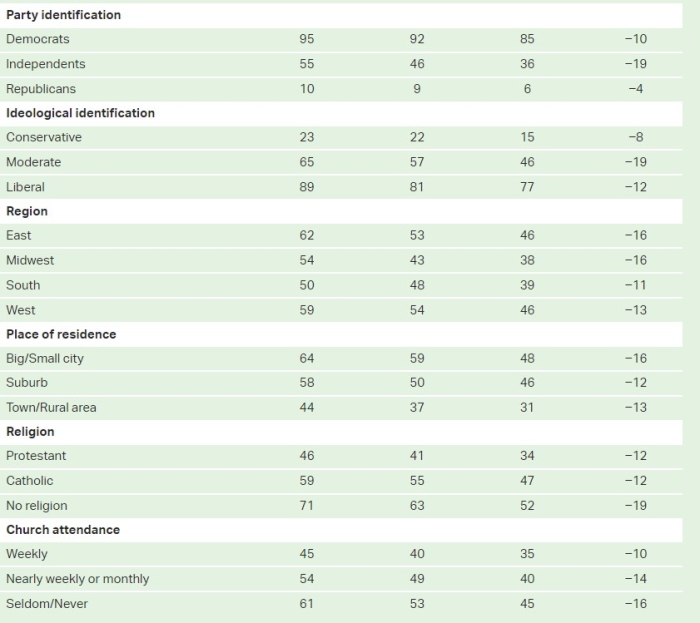 To read the survey, click here.