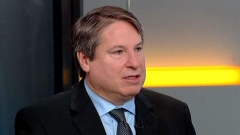 (CNS News) -- John McLaughlin, CEO and Partner of the consulting firm McLaughlin & Associates, said that many of the presidential polling firms deliberately boosted their poll numbers to suggest that Democrat Joe Biden was ahead of Republican Donald Trump in many states, all in order to suppress the vote of Trump supporters. 
If Americans are told, over and over by the media that Biden is ahead of Trump in the polls, then many of those Americans may be discouraged and decide not to vote -- what's the point, if Biden is ahead?
In a telephone interview on Thursday, CNS News asked John McLaughlin, "Do you think they [pollsters] boosted the numbers for Biden to try to suppress the vote?"
McLaughlin, who has been a professional pollster for 35 years, said, "yes."
The polling firms are filled with people who "have PhD's, advanced degrees, they know statistics," and "they know what the electorate looks like from previous exit polls and previous polling," he said.
With the 2020 presidential race, "they went out of their way to under-poll Republicans because they knew that the president gets 90% of his support from Republicans," said McLaughlin.  "And if you lower the percent of Republicans in a poll – whatever your excuse is, you say its adults or just randomly using phone lists – you know you're hurting the president."
"You had major networks publishing polls with 24, 23, 25% of Republicans and exit polls from the last two presidential elections had 33%," he said. 
"There's no excuse for polls where they have, putting up a headline that Biden is way ahead or Trump is losing other than you are trying to manufacture an outcome against the president, or you are totally incompetent," said McLaughlin. "I refuse to believe that they are totally incompetent."
In Florida, for instance, many polling firms and media outlets were giving Biden a strong edge against Trump and reporting that the former vice president would easily win the Sunshine State.
As Real Clear Politics, which posts the poll numbers regularly, shows, Quinnipiac said Biden was up +5 going into Election Day. Reuters/Ipsos said Biden was +4 over Trump; Emerson, +6 for Biden; Monmouth, +6; and CNBC/Change Research, +5. 
Trump won Florida by almost 4% over Biden -- 51.2% to 47.8% -- slightly more than 377,000 votes.  That's essentially the opposite of what many pollsters were claiming for months prior to the election. 
"I think this is an extension of the media bias that just permeates the mainstream American media," he added.  "The media establishment in this country despises the 'Chumps for Trump,' the 'deplorables,' and they basically were going all out to defeat the president because he's their person."
In Ohio, polling firms such as Quinnipiac had Biden up +5; Fox News, +5 for Biden; NBC News, +4. 
In the Senate race in Maine, where Republican Susan Collins was challenged by Democrat Sarah Gideon, numerous pollsters reported that Gideon was ahead for weeks going into the election. Emerson said Gideon was up +6 over Collins; Pan Atlantic said Gideon +7; Boston Globe,+5; NYT/Siena, +5; and Quinnipiac, +12. 
Susan Collins won that race 50.4% to 42.9%, a nearly 8-point lead over Gideon. Again, that's essentially the opposite of what the pollsters and media were claiming before the election. 
"Once again, the polls weren't just wildly wrong, they were deliberately wildly wrong," said Media Research Center Brent Bozell in a Nov. 4 statement. 
"This was no mistake," he said.  "These were the same pollsters who predicted the same thing four years ago, day after day after day: there was no way Donald Trump could win. It was clear then that they were attempting to suppress the vote. The pollsters denied it, of course."
"Here we go again four years later," Bozell continued. "Same pollsters, same prediction, day after day after day: Trump could not win. This time it's indisputable. They did it on purpose. They knew exactly what they were doing. Just as with Clinton four years ago, they were firmly vested in Biden's election."
"This is clearly election tampering," said Bozell.  "At the very least, this is a violation of federal election laws. So many of these pollsters worked for the national 'news' media. It's yet another reason why Americans should never believe these hucksters again."
The media have "lost a lot of trust" with the American people because of their liberal bias, McLaughlin told CNS News. 
They need to "review their whole approach to campaign polling," he said, but "I have little faith they will do that." 
McLaughlin & Associates is one of several firms doing polling for President Trump and the Trump-Pence campaign. 
(Disclosure: The Media Research Center is the parent organization of CNS News.)