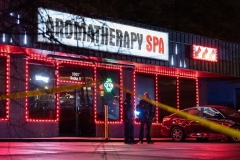 (CNSNews.com) – Reports of deadly shootings at three massage parlors in the Atlanta area on Tuesday sparked snap judgments on social media, with some posters not waiting for evidence of motive before declaring the killings to be hate crimes targeting Asian Americans.
Some critics sought to lay blame on former President Trump, linking the shooting to Trump's criticism of China over the coronavirus pandemic.
Eight people were killed at the three premises – one in Acworth in Cherokee County, Ga., the two others across the road from each other in North Atlanta, about 30 miles from the first crime scene.
The four victims shot dead in Atlanta were Asian women, according to Atlanta Police Chief Rodney Bryant.
Of the four people killed in Acworth, two were Asian women, one was a white woman, and one was a white man, Cherokee County Sheriff's Office spokesman Jay Baker told The Atlanta Journal-Constitution. A fifth person was injured in the Acworth shooting – a Hispanic man.
Police in Crisp County, about 140 miles south of Atlanta, later arrested a fleeing suspect, identified as 21-year-old Robert Aaron Long, of Woodstock, Ga., after deputies used a ramming maneuver to bring his vehicle to a halt.
Briefing reporters earlier, Bryant in Atlanta said it was too early to say whether the slain women had been working at the massage parlors. One of the two businesses in Atlanta describes itself on its website as an "Asian Latin American Massage Spa."  (The business in Acworth is called "Young's Asian Massage Parlor.")
Bryant was asked whether there was any reason to believe the shootings may have been a hate crime.
"Chief, I know this is early on," a reporter said. "It's no secret that throughout the pandemic Asians in the community have been [indistinct] targeted. Do you have any reason to believe that that's – that the motive behind this is potentially a hate crime?"
"Again, we're in the very early stages of this, so we can't make that determination just yet," Bryant replied.
There was little sign of such caution on Twitter, where although investigators have yet to establish a motive, the assumption was that Asians were deliberately targeted for their ethnicity.
"The eight people are Asian and the shooter is white," tweeted Palestinian American activist Linda Sarsour – inaccurately, as it turned out. "In light of recent hate crimes and assaults against Asian Americans across the country, we mourn and we stand in solidarity with our Asian communities."
"Hate crimes towards Asian Americans has increased by 150%," tweeted Rep. Rashida Tlaib (D-Mich.). "This must stop. We must stop it by having zero tolerance for white supremacy in our country. Hate has no place here."
"I'm heartbroken to hear about this tragedy," said Rep. Andy Kim (D-N.J.). "The AAPI [Asian American and Pacific Islander] community across the country is frightened by these acts of violence. We have to strengthen our resolve and act against such blind hatred. Tonight we stand in solidarity with victims and their families."
NewsOne.com, an outlet that describes itself as "your destination for news and information for and about Blacks in America," described the man in police custody as "a suspected white supremacist," without offering any evidence to that effect.
"A new report released Tuesday found that nearly 3,800 anti-Asian incidents took place during the 12 months of the pandemic, something that racist conspiracy theorists have blamed on China," it said – in reference to the coronavirus pandemic, which began with an outbreak in Wuhan, China, in late 2019.
"One of the major proponents of pushing the debunked narrative of China being responsible for COVID-19 has been former President Donald Trump," NewsOne.com continued. "He called it 'the China virus' on numerous occasions."
"That truth increases the chances of Long, the suspected gunman behind Tuesday's shootings, being a likely supporter and avid follower of Trump – similar to the thousands of people who stormed the U.S. Capitol on Jan. 6 to stop Congress from certifying the 2020 election for Joe Biden because Trump said he was the victim of fraud that caused him to lose."
Hate crimes against Asian Americans have risen through 2020, according to an advocacy group called Stop AAPI Hate, which recently said it had received 3,292 reports of such incidents in 2020, and 503 so far this year. It said the incidents included verbal harassment, "shunning," physical assaults, online harassment, and civil rights violations such as workplace discrimination.
The Pew Research Center reported last summer that 31 percent of Asian Americans said they had "been subject to slurs or jokes" because of their ethnicity since the pandemic began, while 26 percent said they "feared someone might threaten or physically attack them."