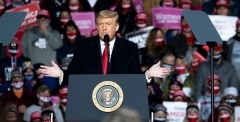 (CNSNews.com) – Two days before a presidential debate in which the nominees' microphones will controversially be muted at times, President Trump had a small foretaste on Tuesday night when he lost sound during a campaign rally in Erie, Pennsylvania.
Trump was speaking about the fact police unions nationwide have largely endorsed him – "even New York's Finest" – when the sound went out. He continued speaking for a few moments as members of the crowd could be seen looking around in puzzlement.
Once he realized his words weren't being heard, Trump tried to test the mic, before taking a stroll around the platform, waving to supporters.
Then he returned to the podium and tried again.
"Is the mic ready? – Yes!" to cheers.
"I wonder who did that to our mic?" Trump mused. "I don't believe it was Joe."
"You know who it was?" he riffed. "Crooked Hillary, must have been. I think it was probably Crooked Hillary."
The crowd laughed, and Trump continued, moving on to Joe Biden's vice presidential running mate, Kamala Harris.
When Trump and Biden face off in their final debate on Thursday night, organizers will mute the microphone of each candidate during the other's initial two-minute response to questions.
Trump has called the decision by the Commission on Presidential Debates "very unfair," and his campaign manager, Bill Stepien, in a letter to the CPD, wrote, "It is completely unacceptable for anyone to wield such power, and a decision to proceed with that change amounts to turning further editorial control of the debate over to the Commission which has already demonstrated its partiality to Biden."