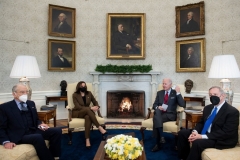 (CNSNews.com) - In a meeting with Sens. Dick Durbin and Chuck Grassley, the chairman and ranking member of the Judiciary Committee, President Joe Biden discussed what he's looking for in a Supreme Court nominee.
Biden said, even before he became president, that he will nominate a black woman. On Tuesday, he said that person's judicial philosophy should be one that views the Constitution as "always evolving."
"There's always a renewed national debate every time we nominate — any President nominates a justice, because the Constitution is always evolving slightly in terms of additional rights or curtailing rights, et cetera," Biden said.
And it's always an issue. And there's several schools of thought in terms of judicial philosophy.  And we'll see.

But the fact is that I'm looking for someone who I can — this is not a static issue; it flows back and forth. What I'm looking for is a candidate with character; with the qualities of a judge, in terms of being courteous to the folks before them and treating people with respect; as well as a judicial philosophy that is more of one that suggests that there are unenumerated rights in the Constitution, and all the amendments mean something, including the Ninth Amendment.
The Ninth Amendment states: "The enumeration in the Constitution, of certain rights, shall not be construed to deny or disparage others retained by the people."
The Supreme Court invoked the Ninth Amendment several times in its Roe v. Wade ruling that legalized abortion, finding that, "This right of privacy, whether it be founded in the Fourteenth Amendment's concept of personal liberty and restrictions upon state action, as we feel it is, or, as the [lower] District Court determined, in the Ninth Amendment's reservation of rights to the people, is broad enough to encompass a woman's decision whether or not to terminate her pregnancy."
Before the 1973 Roe ruling, the Supreme Court in 1965 found an unenumerated right to privacy in Griswold v. Connecticut, a ruling that reversed Connecticut's birth-control ban for unconstitutionally intruding on the right of marital privacy.
In his concurring opinion, Justice Arthur Goldberg wrote: "My conclusion that the concept of liberty is not so restricted and that it embraces the right of marital privacy though that right is not mentioned explicitly in the Constitution is supported both by numerous decisions of this Court, referred to in the Court's opinion, and by the language and history of the Ninth Amendment."
Goldberg also went into a longer discussion about the "language and history of the Ninth Amendment," which, he said, "reveal that the Framers of the Constitution believed that there are additional fundamental rights, protected from governmental infringement, which exist alongside those fundamental rights specifically mentioned in the first eight constitutional amendments.
"The Amendment is almost entirely the work of James Madison," Goldberg wrote. "It was introduced in Congress by him and passed the House and Senate with little or no debate and virtually no change in language.
"It was proffered to quiet expressed fears that a bill of specifically enumerated rights ' could not be sufficiently broad to cover all essential rights and that the specific mention of certain rights would be interpreted as a denial that others were protected."