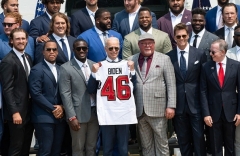 (CNSNews.com) - As football season approaches, the NFL is ramping up pressure on players to get vaccinated -- or else their teams will face financial and other consequences.
"I think the N.F.L. Is sending a very strong signal that it's very important to get vaccinated if you want to play football and you want to do it in a way that you feel unrestricted and not worry about any penalties, you just get vaccinated, because they're saying that if unvaccinated people get infected, there are going to be consequences," Dr. Anthony Fauci told CBS News on Thursday.
According to the NFL memo sent to teams on Thursday – obtained by NFL Network reporter Tom Pelissero -- this season's games "will not be canceled or postponed simply to avoid roster issues caused by injury or illness affecting multiple players…"
That includes non-vaccinated players falling ill with COVID:
"If a game is cancelled/postponed because a club cannot play due to a Covid spike among or resulting from its non-vaccinated players/staff, then the burden of cancellation or delay will fall on the club experiencing the Covid infection," the memo says.
Those burdens include a loss of pay: "If a game is cancelled and cannot be rescheduled within the current 18-week schedule due to a Covid outbreak, neither team's players will receive their weekly paragraph 5 salary."
"If a game cannot be rescheduled within the current 18-week schedule and is cancelled due to a Covid outbreak among non-vaccinated players on one of the competing teams, the club with the outbreak will forfeit the contest and will be deemed to have played 16 games for purposes of draft, waiver priority, etc."
Fauci said other organizations may be inspired to follow the NFL's lead:
"I think that gives them the impetus to do the same sort of thing, and I think you're going to be seeing that there will be local mandates, be they from colleges and universities or places of business, that there will be pressures for people to get vaccinated," he said.
The NFL memo says vaccinated players who test positive but are asymptomatic will be "isolated and contact tracing will promptly occur." Vaccinated players who test positive will be allowed to play after two negative tests 24 hours apart, and they will be tested every two weeks thereafter.
Unvaccinated players will be isolated for ten days and will be allowed back after that if they are asymptomatic. Unvaccinated individuals will continue to be subject to a five-day quarantine period if they have close contact with an infected individual.
Players who have had COVID will be considered fully vaccinated 14 days after they have had at least one dose of an approved vaccine.