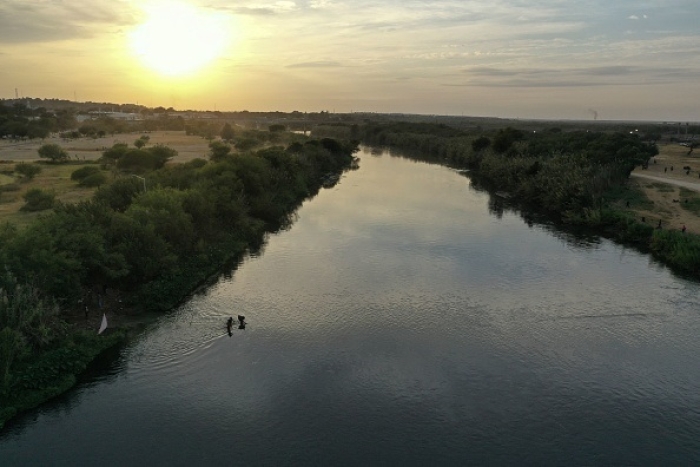 (CNSNews.com) - A federal judge in Louisiana issued a temporary restraining order late Monday preventing the Biden administration from lifting Title 42 on May 23, as planned.
Under Title 42, imposed by the federal Centers for Disease Control when Donald Trump was president, many would-be illegal immigrants are turned away at the southwest border in the interests of public health -- COVID, in this case.
President Biden has come under pressure from immigration advocates to lift the order, which his CDC was planning to do, despite warnings that lifting it will produce a massive surge in immigration, on top of the records already being set.
Missouri Attorney General Eric Schmitt represents one of the 21 Republican-led states that sued to restrain the Biden administration:
"Yeah, so Missouri, Louisiana, Arizona originally filed this action to prevent Joe Biden from ending Title 42, which was a very successful measure under President Trump to help control the flow of illegal immigration at the border," Schmitt told Fox News's Laura Ingraham on Monday night:
"Put that in context, Laura -- about 50 percent of the expulsions are related to Title 42. So, if you get rid of Title 42 right now, you're going to see about 18,000 people a day, that's an estimate. That is a massive number, it's certainly an increase. There is no good time to do that, but certainly right now you're going to see a seasonal surge anyway. So our states brought this action."
Schmitt criticized the Biden administration's "level of lawlessness" at the "completely open border." "So it's up to the states to push back," he said. "That's what we did. So we got a victory today, which is good, but we'll be back in court on May 13th."
At the White House on Monday, Press Secretary Jen Psaki repeated something she's said before: "The president's view is that we have a broken immigration system that's been long overdue to be fixed. He agrees with that, and is certainly happy to discuss that during this meeting or any other meeting he has with members of Congress."
Psaki also noted that Title 42 "is not an immigration policy. This -- Title 42 is a health authority that's determined by the CDC. And we -- we need to have a conversation about immigration reform. That's vital. Maybe this is a reminder of that," she said.
Attorney General Schmitt said the Biden administration wants "tens of millions of folks" to enter the country illegally: "By some estimates, over Biden's four years, that could be 30 million people. That's the State of Texas. That's five Missouri's, okay, of people coming here illegally, sent on midnight flights around the country.
"The Democrats right now are playing for keeps. They want to pack the court, they want to add states to the union, They want to federalize the elections, and now they want to add a whole Texas of illegal immigrants to this country.

"So it's up to the states to push back. That's what we're doing. But, this is shocking. And this is the playbook, which is to open the border and provide amnesty. They are saying the quiet part out loud now, Laura, and it's really disgusting."
Sen. Elizabeth Warren (D-Mass.) is among the liberals who want to get rid of Title 42: "Look, Title 42 is not consistent with our values and it doesn't keep us safer," Warren told CNN's "State of the Union" on Sunday.
"The Biden administration is putting plans in place to deal with people who are asking for amnesty and humanitarian relief at the border. But, keep in mind, we need comprehensive immigration reform. And that's something all the Democrats are on board for.
"We have to work out the details. We still need to be in that fight, though. That's where we need to make significant change."
'Catastrophic'
Texas Gov. Greg Abbott (R) told Fox News's Maria Bartiromo on Sunday that if the Biden administration lifts Title 42 -- something that's now temporarily delayed -- "it will be catastrophic for the United States of America."
Abbott noted that Biden's own Department of Homeland Security has estimated that about 18,000 people a day will flood across the border without fear of being turned around for public health reasons: "Do the math on that," he said, "and you will find it means that more than six million people will be coming across the border a year.
"And about half of those would be in the state of Texas, that we would have coming across the border in one year more people than are the residents of our largest city in Texas, which is Houston. We would be adding more than one Houston a year.

"There's no way the state of Texas can assimilate those people. And there's no way the United States can assimilate that number of people. And so what Joe Biden is doing is far more than reckless. It's the most disastrous thing to the United States of America anybody's ever witnessed in our lifetime."
Abbott noted that he's had to take border matters into his own hands:
"And I have negotiated landmark historic deals with the governors of Mexican states that are adjacent to Texas, where these Mexican states are going to step up, and they are going to start securing the border.

"And that's on top of things that Texas has done that's never been done before in the history of America, such as Texas building its own border wall, Texas laying down miles or razor wire to prevent people from coming across a border, creating boat blockades.

"And I will tell you this, something else has never happened before, and that is, the Texas National Guard -- they have turned back more than 15,000 people who attempted to come across the border illegally. So, Texas is doing everything we possibly can to contain a completely out-of-control border situation. This the worst that I have ever seen it."
Abbott also is sending busloads of illegal immigrants to Washington, D.C., something he said he will continue to do -- to "make the Biden administration deal with it in person."
The governor noted that the State of Texas also is awaiting a Supreme Court hearing on the Biden administration's refusal to reinstate the remain-in-Mexico policy, as ordered by a federal court. "And the Biden administration has completely ignored it," he said.
"And surely, the Supreme Court will rule in our favor, hopefully. But no one is holding Biden accountable for his reckless decision to ignore all of these policies that previously had led to the lowest number of illegal crossings in decades.
"It's time for the Biden administration to start following the laws passed by Congress," Abbott added.