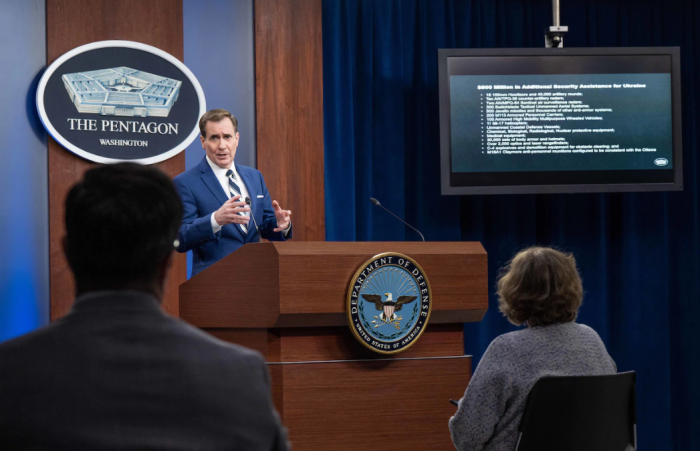 (CNSNews.com) - President Biden on Wednesday authorized another drawdown of U.S. military equipment and services -- this drawdown valued at $800-million -- intended to help Ukraine repel the Russian invasion.
"This authorization is the seventh such drawdown of equipment from DOD inventories for Ukraine since August of 2021," Pentagon spokesman Adm. John Kirby told a news conference on Wednesday.
Kirby said some of the package is "reinforcing capabilities that we have already been providing Ukraine, and some of them are new capabilities that we have not provided Ukraine."
The new capabilities include artillery: "It's the first time that we've provided these 155 (mm) howitzers and the associated rounds (40,000) that'll go with them. And again, that's reflective of the kind of fighting that -- that the Ukrainians are expecting to -- to be faced with here in this a little bit more confined geographic area. They specifically asked for fire support, and that -- and specifically asked for artillery support."
Amid concerns about chemical, biological and even nuclear attacks by Russia, the U.S. is sending individual protective suits and individual detection devices to Ukraine.
The Ukrainians believe it's "the prudent thing to do," Kirby said:
"We have talked about indications we've had in the past, weeks ago, that the Russians might resort to the use of chemical or biological weapons.

"And so, based on talking with the Ukrainians about protective a gear -- gear, and again, keeping in mind that we're -- we're looking at operations in a much more confined space now, the Ukrainians asked for this, and -- and we have it so we're going to provide it.

"Is it based on a specific credible threat of a use in a -- in a -- in a neighborhood or a particular area? No. But it's certainly based on longstanding concerns we've had about the potential for the Russians to use these kinds of weapons."
The latest equipment list also includes unmanned coastal defense vessels "that can be used for a variety of purposes in coastal defense," Kirby said. "I think I'll just leave it at that."
Ukraine will get another 11 MI-17s helicopters that had been earmarked for Afghanistan. Kirby said the U.S. already has sent five of those helicopters to the Ukrainians.
Kirby said the equipment list (see full list below) results from conversations with Ukrainians about what they need. "I can't stress that enough," he said. "We're not foisting stuff upon them because, you know, we just think it's a good idea."
Training the trainers
And along with the equipment comes training, Kirby said:
"So, we do anticipate that some of these items will require some additional training for -- for Ukrainians. We haven't -- we're -- we're still working through what those options are going to look like, what that training is going to look like, how many U.S. troops are going to be involved in it, where is it going to be, how long.

"It's going to depend. We're still working our way through that. But we believe that we can put together appropriate training for some of these systems very, very quickly. These are not highly complex systems. The systems that will probably require some additional training for Ukrainian forces are the -- the howitzers.

"The TPQ-36 counter artillery radar -- not a very difficult system to operate, but it's not one that they have in their inventory...The Sentinel air surveillance. This is a -- an air defense radar system, a 3D phase array. And that also is going to require a little bit of training them on -- for that.

"Go back to the main list if you could. So, we already talked about Switchblade training. That has already occurred. And -- and we know that there'll probably be a need for some follow on Switchblade training for, again, training more trainers, if you will.

"They will -- they -- they might need some training on the way -- down at the bottom there, the optics and laser range finders. But that's -- that won't take very long. It's not a very -- these aren't -- those aren't complicated systems, but they might need some of that, and perhaps some -- some basic training on the claymores. But the -- the big ticket items that -- that will require some training are those radars and the artillery systems.

"Again, we're still working our way through what that's going to look like, where, when, how many. It's more likely than not that what we would do, because they are in an active fight, is a train the trainers program. So, pull a small number of Ukrainian forces out so that they can get trained on these systems and then send them back in. It won't be a -- it won't be cafeteria style.

"It'll likely be tailored. We'll pull -- we'll pull troops out that -- for instance, artilleryman, to learn the artillery -- the howitzer and then go back in and train their colleagues rather than take an artilleryman and make them responsible for, you know, training everybody in all these systems. So, we'll do it in a tailored fashion."
A reporter asked Kirby "if there are any concerns over whether this is going to look like some type of escalation or be interpreted that way by the Russians."
"I can't speak for the -- the Russian side of this," Kirby responded. "Let's go back to basics. Ukraine was invaded in an unprovoked way by Russia. They have suffered a lot of casualties, damage to so many cities. Millions of Ukrainians have now become refugees inside and outside their country. This was a war they didn't deserve."
Kirby noted that from the very beginning, even before Russia invaded, the U.S. announced it would help Ukraine defend itself.
"How that gets interpreted by the Russians, you can ask Mr. Putin and the Kremlin. What we're concerned about is making sure that we are doing what we said we were going to do, which is have an iterative conversation with the Ukrainians and try to do the best we can to meet their self-defense needs."
Here is the full equipment list included in the latest $800-million drawdown, as published by the Defense Department:
--18 155mm Howitzers and 40,000 artillery rounds;
--Ten AN/TPQ-36 counter-artillery radars;
--Two AN/MPQ-64 Sentinel air surveillance radars;
--300 Switchblade Tactical Unmanned Aerial Systems;
--500 Javelin missiles and thousands of other anti-armor systems;
--200 M113 Armored Personnel Carriers;
--100 Armored High Mobility Multipurpose Wheeled Vehicles;
--11 Mi-17 helicopters;
--Unmanned Coastal Defense Vessels;
--Chemical, Biological, Radiological, Nuclear protective equipment;
--Medical equipment;
--30,000 sets of body armor and helmets;
--Over 2,000 optics and laser rangefinders;
--C-4 explosives and demolition equipment for obstacle clearing; and
--M18A1 Claymore anti-personnel munitions configured to be consistent with the Ottawa Convention.
Kirby said the United States has now committed more than $3.2 billion in security assistance to Ukraine since the beginning of the Biden administration, including approximately $2.6 billion just since the beginning of Russia's unprovoked invasion on February 24th.