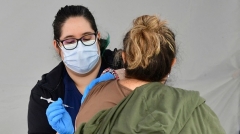 (CNSNews.com) - As coronavirus vaccinations rise in this country, so does the question -- will businesses and airlines eventually require proof of vaccination from their customers?
Andy Slavitt, a senior adviser to President Biden on the COVID-19 response, said on Monday he knows this is a "tricky and important subject."
But the core here is that Americans, like people around the world, who are vaccinated, will want to be able to demonstrate that vaccination in various forms. This is going to hit all--all parts of society.

And so, naturally, the government is involved. But unlike other parts of the world, the government here is not viewing its role as the place to create a passport, nor a place to hold the data of--of citizens. We view this as something that the private sector is doing and will do.

What's important to us, and we're leading an interagency process right now to go through these details, are that some important criteria be met with these credentials.

Number one, that there is equitable access -- that means whether or not people have access to technology or whether they don't. It's also important that we recognize that there are still many, many millions of Americans that have not yet been vaccinated.

So, that--that's a fundamental equity issue. Privacy of the information, security of the information, and a marketplace of solutions are all things that are part of what we believe in, as for the ability for people to access this free and in multiple languages.

So, I think you will see more from us as we complete our interagency process. But this is not slowing down the process in any way, even though the government has its own needs, so does the private sector. And the private sector and other groups working together are marching in that direction. It is important for--for us, and it will be--we will be very clear about how that will happen, that the guidelines that I just talked about are part of that process.
In response to another question on the so-called vaccination passports, Slavitt said people considering vaccination need to be "comfortable" and understand why it is "in their best interest."
We do know that there is a segment of the population that is concerned that the government will play too heavy-handed of a role of monitoring their vaccinations, and that mandates will be coming from the federal government.

And in point of fact, it would discourage people to feel like that was the role we are playing. So we think we can have the best of all worlds. We think we can essentially put forward guidelines and guidance.

And given the federal government's source and role in society, for everything from the TSA to the VA, to Department of Health and Human Services, the CDC, I could go on and on, you know, we have a major impact in what will get done.

So, we are putting forward our principles very clearly. We will be even more clear in the time ahead, and we believe based on everything we know, that that will influence the outcome in the way we described.
Later on Monday, White House Press Secretary Jen Psaki repeated that the Biden administration will "provide guidance" on vaccination verifications/passports:
There's currently an interagency process that is looking at many of the questions around vaccine verification," she said:
We expect as -- as Andy Slavitt, I think, alluded to, that a determination for development of a vaccine passport, or whatever you want to call it, will be driven by the private sector, ours will more be focused on guidelines that can be used as a basis. And there are a couple of key principles that we are working from.

One is that there will be no centralized universal federal vaccinations database and no federal mandate requiring everyone to obtain a single vaccination credential. Second, we want to encourage an open marketplace with a variety of private sector companies and non-profit coalitions developing solutions.

And third, we want to drive the market toward meeting public interest goals. So we'll leverage our resources to ensure that all vaccination credential systems meet key standards, whether that's universal accessibility, affordability, availability, both digitally and on paper.

But those are our standards. It's currently going through an inter-agency process. We'll make some recommendations and then we believe it will be driven by the private sector.
The idea of vaccination passports is generating buzz on social media. Here's a random sampling from Twitter: