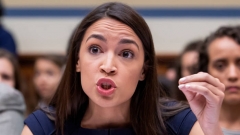 (CNS News) – House Rep. Alexandria Ocasio-Cortez (D-N.Y.), a self-described Democratic Socialist, tweeted last night in opposition to President Trump's use of the nickname "AOC" to refer to her during the second presidential debate. She claimed the usage was a violation of "Basic respect 101," and that it was an example of Republicans advertising "their disrespect of women."
Ocasio-Cortez's Twitter handle is @AOC, changed from @Ocasio2018 when she won her election in 2018 and the nickname "AOC" became a favorite among reporters and commentators.
During the debate, when challenging Biden's green energy/climate change plans, Trump said, "If you look at what he wants to do, you know if you look at his plan, you know, you know who developed it? AOC+3. They know nothing about the climate. I mean, she's got a good line of stuff, but she knows nothing about the climate. And they're all hopping through hoops for AOC+3."
The +3 refers to the three other left-wingers in Ocasio-Cortez's legislative circle: Reps. Ilhan Omar (D-Minn.), Rashida Tlaib (D-Mich.), and Ayanna Pressley (D-Mass.).   They are often referred to collectively as "The Squad."
In her first tweet from last night, Ocasio-Cortez writes, "I wonder if Republicans understand how much they advertise their disrespect of women in debates when they consistently call women members of Congress by nicknames or first names while using titles & last names when referring to men of = stature. Women notice. It conveys a lot."
"AOC is a name given to me by community & the people," she wrote. "Y'all can call me AOC."
Her second tweet read, "Government colleagues referring to each other in a public or professional context (aka who don't know me like that) should refer to their peers as "Congresswoman," "Representative," etc. Basic respect 101."
Twitter users were quick to point out after this tweet an example of Ocasio-Cortez responding to a tweet by Sen. Ted Cruz (R-Texas) where the conservative senator used "Ginsburg" to refer to the late supreme court justice and the congresswoman used "RBG."
Ocasio-Cortez also used former White House counselor Kellyanne Conway's first name only when responding to her via Twitter. In that same tweet, Ocasio-Cortez used the last name only of Biden and Trump.
Other examples of the congresswoman potentially breaking her own standard were pulled up by Twitter users, including recently not using "Senator" or "President" when referring to Cruz and Trump in a public context.