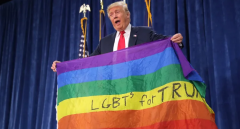 (CNS News) -- Unlike his predecessor Barack Obama, President Donald Trump has not officially recognized June as "LGBT Pride Month" by issuing a proclamation about it. Trump did not do this during the first three years of his administration and did not do so this year.
However, Trump did issue proclamations declaring June as National Homeownership Month, as well as National Ocean Month, and Great Outdoors Month. He also proclaimed June as African-American Music Appreciation Month and as National Caribbean-American Heritage Month.
In a statement on June 2, the Human Rights Campaign (HRC), an LGBT advocacy group, said, "While Trump and Pence acknowledged Global Coptic Day, they failed to recognize Pride Month. In response, HRC President Alphonso David said, 'In a global pandemic and national crisis highlighting ongoing racial violence and police brutality across the country -- violence that particularly targets Black lives -- Trump and his administration have stoked division, hate and anger with continued attacks on LGBTQ people, people of color, immigrants and other vulnerable communities.'"
"'The first pride started with protest. LGBTQ people -- led in large part by transgender women of color -- resisted police brutality and violence at Stonewall, the Black Cat and Compton's Cafeteria, among others,'" said David.  "'In this moment, we must unite like never before and take action, combat racism in all its forms and end white supremacy, not as necessary corollaries to our mission, but as integral to the objective of full equality.'" 
President Trump had issued a "Presidential Message" on June 1 for Global Coptic Day. 
In his last year in office, President Barack Obama said of LGBT Pride Month, "Last year's landmark Supreme Court decision guaranteeing marriage equality in all 50 States was a historic victory for LGBT Americans, ensuring dignity for same-sex couples and greater equality across State lines.  For every partnership that was not previously recognized under the law and for every American who was denied their basic civil rights, this monumental ruling instilled newfound hope, affirming the belief that we are all more free when we are treated as equals.
LGBT individuals deserve to know their country stands beside them.  That is why my Administration is striving to better understand the needs of LGBT adults and to provide affordable, welcoming, and supportive housing to aging LGBT Americans.  It is also why we oppose subjecting minors to the harmful practice of conversion therapy, and why we are continuing to promote equality and foster safe and supportive learning environments for all students. 
"We remain committed to addressing health disparities in the LGBT community -- gay and bisexual men and transgender women of color are at a particularly high risk for HIV, and we have worked to strengthen our National HIV/AIDS Strategy to reduce new infections, increase access to care, and improve health outcomes for people living with HIV.
"... During Lesbian, Gay, Bisexual, and Transgender Pride Month, as Americans wave their flags of pride high and march boldly forward in parades and demonstrations, let us celebrate how far we have come and reaffirm our steadfast belief in the equal dignity of all Americans."
The White House's practice of proclaiming June as a month dedicated to homosexuality, bisexuality, and transgenderism was started by President Bill Clinton in 1999.