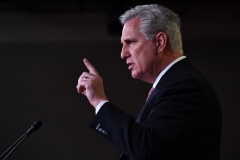 (CNSNews.com) - House Republican Leader Kevin McCarthy (R-Calif.) said he'll vote against the so-called bipartisan infrastructure bill when it comes up for a vote on Monday, because he no longer views it as "bipartisan."
"You know, I don't view it as a bipartisan bill any longer, where the Democrats have now made it one, over-$5 trillion bill."
Spending so much on new entitlement programs "would only harm the nation even more," McCarthy said. "I'm voting no."
Rep. Pramila Jayapal (D-Wash.), chair of the Congressional Progressive Caucus, says leftist Democrats will "vote for both bills," but only if the larger bill passes first. But some "moderate" Democrats say the bipartisan bill must be passed immediately, instead of being used as a "political football" to assure passage of the Democrats' reconciliation bill.
McCarthy and House Republican Whip Steve Scalise are urging their fellow Republicans to vote no on the bipartisan bill.
In a message to House Republicans, Scalise wrote:
Speaker Pelosi has made it clear that the Senate infrastructure bill is now inextricably linked to her extremist, socialist $3.5 trillion tax and spend bill.

Now that the multi-trillion-dollar reconciliation bill will not be ready for the floor in time for the self-imposed deadline of September 27th due to disarray within her caucus, Democrats are moving forward with the Senate infrastructure bill, which has become the gateway to passage of the $3.5 trillion reconciliation bill. 

It is abundantly clear that the far left's multi-trillion-dollar tax increases on working families and small businesses will result in even higher inflation that will drive up prices, destroy millions of jobs and undermine wages, while adding trillions more dollars to the national debt.  There is no question that Republicans vehemently oppose the reckless policies included in the reconciliation bill, and Speaker Pelosi's legislative strategy solidifies that a vote for the infrastructure bill paves the way for passage of reconciliation –

Republicans should not aid in this destructive process.
Making passage of one bill conditional on passage of the other would harm the country, McCarthy said:
"What you get is $5 trillion of more inflation," he said. "You get a bigger socialist big government; you get a harm to our economy. And from the whole perspective of the roads being built, we had a bill that went forward that had the opportunity to build more roads, less money, have the reforms to get it done. And you didn't have to have the Green New Deal."
'We'll get there'
Rep. Josh Gottheimer (D-N.J.) is among a group of Democrats who insisted that the bipartisan infrastructure bill be voted on Monday, ahead of a vote on the reconciliation bill.
"The country wants it," Gottheimer told CNN's Wolf Blitzer on Thursday: "These are roads, bridges, tunnels, climate resiliency, broadband, so many things that matter to Jersey and the country where I'm from. And I'll tell you the support at home is enormous because it's 2 million jobs a year. And we're going to get this done.
"We all agreed to vote on this bill on Monday to bring it to the floor, so that's what's going to happen. And we're also, Wolf...working around the clock as well on reconciliation. That's the other package. Both are so important to the president's agenda.
"That first one, which why I know everyone will be there for the president on infrastructure on Monday. The president is there. The speaker said she'll get the votes. There's no one is better than Speaker Pelosi at doing so. So, I'm optimistic, Wolf."
Gottheimer insisted that both bills will pass, even though dozens of "progressives" are balking at passing one bill without the other:
"I just don't think that they'll vote against -- and we can't afford any Democrat to vote against the president's historic infrastructure package on Monday," Gottheimer said.
"There's so much on the line. We'll get there, as the speaker said, we'll all unite and get it don't on Monday, but we're also -- Wolf, we're going to keep -- and this is what I've been saying and my colleagues have been saying, we're going to keep working on reconciliation, and we're also going to get that done.
"You know, that bill is not written yet. The physical infrastructure (bipartisan bill) passed out of the Senate. It's sitting in the House waiting for consideration. We can get it to the president's desk next week and all get behind it in a bipartisan way, which is great for the country. And then, of course, we're going to get reconciliation done. But, Wolf, it will all work out."