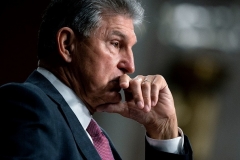 (CNSNews.com) - Sen. Joe Manchin (D-W.Va.) made it "very clear" on Wednesday that he won't consider a reconciliation bill that spends more than $1.5 trillion.
"My number's been 1.5," Manchin told reporters. Manchin explained what elements of the "human" infrastructure bill he supports, but he also warned against turning the United States into an "entitlement society."
Manchin's comments earned a sharp retort from Sen. Bernie Sanders, who went down the long list of new entitlements in the $3.5 trillion reconciliation bill, asking how Manchin could be opposed to "protecting working families and cutting childhood poverty."
Manchin on Wednesday explained how he arrived at his $1.5 trillion number.
His priorities include tax hikes on the wealthy and on corporations to fund programs for people who really need the help:
[W]e have to make sure that we're committed to children, children at the beginning of life, that we can help them; and also our seniors at the end of life, that we can give them the dignity and the quality of life of living in your home if you desire to do that. These are all things we can set priorities. This is not a heavy lift.

I think also, lowering the price of drugs. It makes no sense at all that we don't go out and negotiate. The VA does a tremendous job. Medicaid does it. Why doesn't Medicare? These are things we all can agree on very easily.

And also, I've been very clear when it comes to who we are as a society, who we are as a nation, and why we are still the hope of the world. I don't believe that we should turn our society into an entitlement society. I think that we should still be a compassionate, rewarding society. I think that fares best for all of us.

Compassion means taking care of those who can't take care of themselves, whether they're young, whether they've had some type of a challenge in life, whether it be mental or physical -- those are responsibilities that we have and we can all meet those responsibilities, and I feel very strongly about that. And we will continue.

This is going to take time to get this done. Getting it done quickly is not going to benefit anybody. So let's make sure that we do it and do it right.
Seniors are not entitled to digest their food?
Sanders questioned how Manchin could be against all the government handouts and climate change provisions in the Democrats' massive bill that aims to "transform" the United States.
"Now Senator Manchin, as I understand it, talked about today about not wanting to see our country become an entitlement society. Well, I am not exactly sure what he means by that," Sanders said, listing much of what is in the bill:
Does that mean that we end the $300 direct payments for working class parents which have cut childhood poverty in this country...in half? Is protecting working families and cutting childhood an entitlement? Does Sen. Manchin think we should once again have one of the highest levels of childhood poverty of any major country on earth?

At a time when millions of seniors in Vermont, in West Virginia, all across this country, have teeth in their mouths that are rotting, when they can't afford hearing aids in order to communicate with their grandchildren and when they can't afford a pair of glasses in order to read a newspaper -- does Sen. Manchin really believe that seniors are not entitled to digest their food and that they're not entitled to hear and see properly? Is that really too much to ask in the richest country on earth, that elderly people have teeth in their mouth and can see and can hear?

Does Sen. Manchin not believe that we have to end the absurdity of the United States paying by far the highest prices in the world for prescription drugs?...

…Does Sen. Manchin believe that we should be the only major country on earth not to guarantee paid family and medical leave and that working mothers should not be able to stay home with a child who is sick? Are workers not entitled to be able to do that?

Does Sen. Manchin believe that working class parents in West Virginia and Vermont...should have to pay 25 or 30 percent of their incomes on child care? ...Are the children of this country not entitled to high-quality child care and pre-K education?

Does Sen. Manchin not believe that working families in this country are entitled -- entitled to affordable housing and that we should not have some 600,000 people in America, including many veterans, sleeping out on the streets?

Does Sen. Manchin not believe that at a time when we have a major labor shortage in many parts of this country -- because our young people lack the skills they need -- that they are not entitled to at least two years of free community college so they can get the training in order to go out and get the good-paying jobs that are there?

And perhaps most importantly, does Sen. Manchin not believe what scientists are telling us, that we face an existential threat regarding climate change and that it is absolutely imperative that we move boldly to cut carbon emissions?...Does Sen. Manchin not believe that our children and grandchildren are entitled to live in a country and a world that is health and is habitable?
Sanders said it's time for Manchin to "tell us, with specificity, not generalities -- we're beyond generalities -- with specificity what he wants and what he does not want and to explain that to the people of West Virginia and America."
'Not playing fair'
Sanders noted that 48 out of 50 Senate Democrats support the bill, as do 96 percent of House Democrats.
"We got 48 senators who support $3.5 (trillion). We got two who do not," Sanders said.
"My concern with Mr. Manchin is not so much what his views are -- I disagree with him. But it is that it is wrong -- it is really not playing fair that one or two people think that they should be able to stop what 48 members of the Democratic Caucus want, what the American people want, what the president of the United States wants."
Sanders said Manchin has a right to be heard, to fight for his point of view, and even to get some compromises: "But two people do not have the right to sabotage what 48 want and what the President of the United States wants. That to me is wrong," Sanders repeated.