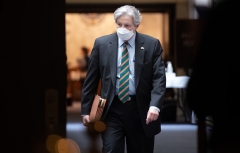 (CNSNews.com) - Hours after House Speaker Nancy Pelosi (D-Calif.) touted her $3-trillion coronavirus relief bill/Democrat wish list at a news conference, a Republican senator cast doubt on the bill's survival.
"I don't think we 're going to have a fifth bill," Sen. John Kennedy of Louisiana told Fox News's Sean Hannity Wednesday night.
I'm not at all sanguine about the prospects. Some of my colleagues disagree with me, but I think it's way less than 50 percent. The reason is, I think speaker Pelosi overplayed her hand.

I mean, her bill is so grandiose. It's not a coronavirus bill. It's basically a 'remake Western civilization' bill. And I think that the Republicans in the Senate were so shocked when they saw it that at this juncture, she could take her bill and eliminate every other word and cut the cost by 75 percent, and it still wouldn't pass.

And if she does that, and she takes it back to the Ocasio-Cortez wing in the House, they 're not going to support it. So I think she overplayed her hand here.
Earlier Wednesday, Pelosi noted that House Democrats passed the Heroes Act last week, "to meet the needs of the American people."
She criticized Republicans for wanting to "pause" the money spigot, and she said items in the bill described as Democrat priorities -- vote-by-mail, post office funding, OSHA regulations, and food stamps expansion -- are really all about "health."
"So, we have the post office, we have food stamps, we have election assistance, and we have OSHA," Pelosi said on Wednesday:
All of the issues that I talked about relate to the good health and wellbeing of the American people. If there's one word that is a common denominator, one aspect that is a common denominator of everything we've talked about, it's about health.

Our health care workers and all who are there to save the lives and keep the American people healthy. Our testing, to open the economy, is about health, the good health of the American people.

When we talk about the issues, about putting money in the pockets of the American people, and some of that is about their--their housing and their--and the food that they need access to and further Medicaid assistance, that is a part of all of that.

It all comes back to down to one basic thing: if you ain't got your health, you ain't got nothing. My mother used to say that, but not in those words, much more lovely, more religiously, shall we say.
Pelosi noted that there is disagreement over funding for vote-by-mail elections, but she said, "vote by mail is a health issue, just as food is a health issue."
We cannot have people going to places that are predictably dangerous to their health, and again, I think 49 of the 50th--I'm waiting for the 50th state--have asked for the funds that was in a previous bill to help with the vote by mail initiative.

OSHA, a standard for protection of workers and employers and customers, very important, and we hope that in light of everything that is happening now, the Republicans will see the light of the importance of having worker protection. Safety in the workplace, again, in the best of times is essential. In these times, absolutely a matter of life and death.

And, then the post office. Do you know that last year, over a billion, more like a billion and a quarter packages of medicine were mailed out to the American people, that 90 percent of veterans get their medicines through the mail? So much else as well to keep people in their homes and packages delivered at this very difficult time. So, that is a health issue as well.
Pelosi called the $3 trillion bill "lean," "disciplined," and "focused on the health and well-being of the American people."
She said she hopes Senate Republicans will use the bill as the starting point for "debate," although Sen. Kennedy, for one, has ruled that out.
In addition to its "health" aspects, the Democrat bill also includes considerable money for state and local governments that have incurred unexpected losses because of coronavirus; and money for "testing, testing, testing, tracing, tracing, tracing," as Pelosi likes to say.
She says testing is the key to opening the economy, which is opening right now -- even as the fifth relief bill languishes.