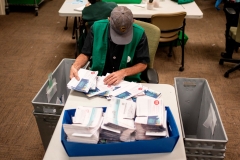 Nearly three-fourths of U.S. states have some form of voter identification requirement that would be abolished, if Democrats' "For the People Act" (H.R. 1) bill becomes law, a new study by the Honest Elections Project (HEP) warns.
H.R. 1 would negate a range of state laws designed to ensure that only legal votes are counted and that political operatives don't harass voters trying to cast their ballots, "H.R. 1's Impacts on Election Safeguards and Voting Practices" explains:
36 states have adopted a voter identification requirement, which H.R. 1 would prohibit them from applying.
24 states either limit or ban operatives, campaigns, candidates, and activists from interacting with voters as they cast an absentee ballot or taking unsupervised possession of their voted ballots. H.R. 1 would remove these restrictions.
12 states require that absentee ballots be signed by a witness, or that voters comply with an ID requirement when they vote absentee. Both practices are prohibited by the bill.
Additionally, H.R. 1 would create hurdles to states' efforts to keep voter rolls accurate. It hinders cleanup efforts and allows records to become inflated with outdated registrations, the report cautions.
H.R. 1 would even eliminate election integrity laws currently in force in a number of "blue" states (those with Democratic governors or legislatures):
Connecticut, Delaware, Hawaii, Rhode Island, Virginia, and Washington all have voter ID laws that would be overturned by H.R. 1.
Vote trafficking would no longer be restricted in a number of "blue" states, such as New Jersey and New Mexico, under H.R. 1.
Connecticut and New York do not regularly offer no-excuse absentee voting, but would be required to do so by H.R. 2.
Delaware offers neither automatic nor same-day voter registration. New Jersey, New York, Rhode Island, and Virginia also do not allow same-day registration. H.R. 1 would ban these limitations on registration.
Within months of enactment, H.R. 1 would require many states to implement drastic changes to their election systems and infrastructure, such as:
14 states will need to develop policies, procedures, and logistics to allow no-excuse absentee voting.
36 states that offer no-excuse absentee or all-mail voting would need to conform their practices to H.R. 1's myriad commands.
30 states would be forced to create Automatic Voter Registration (AVR) systems for the first time.
19 states currently use AVR, but as with absentee balloting, many of these systems would be forced to institute potentially sweeping changes to bring them into compliance with H.R. 1.
29 states would need to develop same-day voter registration processes.
36 states would have to develop and launch redistricting commissions to handle legislative redistricting.
In conclusion, the report warns that H.R. 1 would "permanently reshape elections in ways that weaken voting safeguards, put public trust in elections at risk, and ignore the desires of mainstream voters."