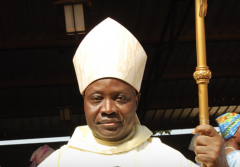 African Catholic Archbishop Ignatius Kaigama, one of Nigeria's most powerful leaders, said that Democratic President Joe Biden's executive orders to promote abortion widely in the United States and abroad are contrary "to reason" and they violate "human dignity." 
"[A]bortion and infanticide are abominable crimes," said the archbishop in an interview with Crux, which was published on Feb. 3.
In the interview, Crux asked the archbishop, "New U.S. President Joe Biden has just reinstated taxpayer funding for abortions overseas. Are you concerned that under the Biden administration, there will be increased pressure on Africa to adopt contraception, abortion, and other western customs?"
Archbishop Kaigama replied, "As I understand it, President Biden's memorandum reverses restrictions on abortion access domestically and abroad imposed and expanded by the Trump administration."
"It is intriguing that one of Biden's first official acts is to promote the destruction of human lives domestically and in developing nations," he said. "This order does not stand to reason; it violates human dignity."
"The president should use his office to prioritize the most vulnerable, including unborn children," said the archbishop.  "Vatican II and all the Popes down to Pope Francis have described the deliberate killing of a child before or after birth as a most grievous violation of God's commandments."
"Life must be protected with the utmost care from the moment of conception," he added, "abortion and infanticide are abominable crimes."
"As Bishops, we have always reiterated that abortion is a direct attack on life that also wounds the woman and undermines the family and above all, it offends God," concluded Archbishop Kaigama.
Archbishop Kaigama, 62, was appointed a bishop by Pope St. John Paul II in 1994. In 2000, he was assigned as Archbishop of Jos, Nigeria. In 2019, Pope Francis named him Archbishop of Abuja. 
In 2014, explaining why it is morally right to imprison people who contract "gay marriage," Kaigama said this was  "in line with the moral and ethical values of the Nigerian and African cultures." He also blessed  President Goodluck Jonathan, stating, "To protect you and your administration against the conspiracy of the developed world to make our country and continent, the dumping ground for the promotion of immoral practices."
He has also criticized foreign aid programs that relentlessly promote contraception and abortion. "We want food, we want education, we want good roads, health care," he said in 2014. "We are being given the wrong things and we are being asked to accept, simply because we are poor."