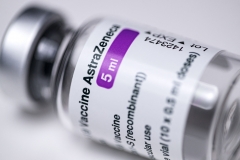 Denmark is the first country in Europe to abandon the use of the AstraZeneca COVID vaccine because of side effects, which are very rare but may have caused blood clotting in some patients who received the vaccine. 
"European regulators said that as of March 22, they had carried out detailed reviews of 86 cases [of clotting], 18 of which had been fatal," reported the New York Times. 
Also, as of April 4, "European regulators had received reports of 222 cases of the rare blood-clotting problem in Britain and the 30-nation European Economic Area (the European Union plus Iceland, Norway and Liechtenstein)," reported The Times. "They said that about 34 million people had received the AstraZeneca vaccine in those countries, and that the clotting problems were appearing at a rate of about one in 100,000 recipients."
In a statement, Denmark's health agency director, Soren Brostrom, said, "Overall, we must say that the results show that there is a real and serious side effect signal in the vaccine from AstraZeneca."
"Based on an overall consideration, we have therefore chosen to continue the vaccination programme for all target groups without this vaccine," said Brostrom. 
"[W]e now have a known risk of severe adverse effects from vaccination with AstraZeneca, even if the risk in absolute terms is slight," he added. 
About 150,000 people in Denmark have received the first dose of the AstraZeneca vaccine, according to The Times.  "The country's health authorities said that people who received a first dose of the AstraZeneca vaccine would be offered a different vaccine for their second dose," reported the newspaper. 
In the United States, the CDC and FDA recommended a "pause" in the use of the Johnson & Johnson vaccine out of an "abundance of caution," because of six women who developed blood clots after receiving the vaccine.
Those cases are under review and it is not known whether the Johnson & Johnson vaccine caused the problem. 
In its April 13 health alert, the CDC said, "As of April 12, 2021, approximately 6.85 million doses of the Johnson & Johnson (J&J) COVID-19 vaccine (Janssen) have been administered in the United States. The Centers for Disease Control and Prevention (CDC) and the U.S. Food and Drug Administration (FDA) are reviewing data involving six U.S. cases of a rare type of blood clot in individuals after receiving the J&J COVID-19 vaccine that were reported to the Vaccine Adverse Event Reporting System (VAERS)."
"In these cases, a type of blood clot called cerebral venous sinus thrombosis (CVST) was seen in combination with low levels of blood platelets (thrombocytopenia)," states the alert. "All six cases occurred among women aged 18–48 years. The interval from vaccine receipt to symptom onset ranged from 6–13 days. One patient died."