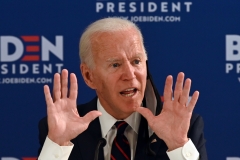 Sometimes, it feels like we humans tend to use large numbers to mask an uncomfortable truth.

I could tell you that, on average, a child is abused or neglected every 48 seconds in America. I could tell you that, in 2019, more than 650,000 children were victims of abuse or neglect, and that 250,000 of these children entered the foster care system. I could compare the large numbers of children in need of a home to how few foster parents are ready and able to take them in. I could also point out that the COVID-19 pandemic exacerbated the problem. A new Department of Health and Human Services policy is now making this challenge even more difficult.

As awful as the situation is, it's almost too easy to gloss over those numbers and continue with your day. But through my work at Holston United Methodist Home for Children, I've seen the faces involved in this crisis.

Trevor and Shawn survived the worst kinds of abuses in their home and were soon adopted; however, the couple that adopted them divorced several years later and surrendered their rights to the boys. The boys were dejected and formed bad habits as a result of their skewed picture of love.

Harper and Shauna saw their mother cycle through drugs and abusive boyfriends before she ended up in prison, leaving them without a home. At four years old, the only light Christopher ever knew was the dim glow of a meth lab, and he came to our home unable to speak in full sentences and terrified of adults.

No one should have to live through the abuses and trauma these children have faced—especially not the most vulnerable among us. But fortunately, I can share that each one of these children had their situation turned around for the better, and it all started with the ministry of one woman. Holston Home was founded in 1895 when a widow named Elizabeth Wiley took in a homeless child to provide care. Since then, Holston has helped more than 8,000 children.

We are compelled by our religious beliefs to care for the least of these. We see ourselves as a mission field for the church and are so grateful for our churches' offerings and longstanding support. We are also so blessed to have faithful and committed individuals and businesses who pray and give so that children and families can experience the love of the Lord in physical, emotional, and spiritual ways.

Holston also receives some reimbursement for our child-placement activities through Title IV-E funding from the U.S. Department of Health and Human Services. However, at the end of the Obama Administration, HHS issued a rule that forced religious adoption providers to violate our deeply held beliefs in order to continue to receive these funds. Though the Trump Administration granted a temporary reprieve, HHS has once again placed us in a difficult situation by revoking those religious exemptions.

The U.S. Supreme Court recently ruled in favor of a faith-based adoption provider that was facing a similar violation of religious beliefs by the city of Philadelphia, and with the help of Alliance Defending Freedom, we are challenging HHS to align with the Supreme Court's decision and rescind its rule that puts children at risk. We want our nation's leaders to be successful in their policies to care for young people. We do not have a political agenda; we simply seek to continue to exercise our faith like we have been doing for the last 126 years, caring for the children that God entrusts to us.

Holston Home acts as a first line of defense against the epidemic of child abuse and neglect. As divided as our country is on certain issues, we can all agree that every child deserves a loving, stable, and permanent home. Now is not the time for government officials to focus on our differences and leverage the funds that Congress established to meet the needs of traumatized children who cannot safely live in their own homes. We pray that the landscape for the care of children will continue to include faith-based ministries that heal and restore young lives in Jesus' name.

Bradley Williams is president and CEO of Holston United Methodist Home for Children.