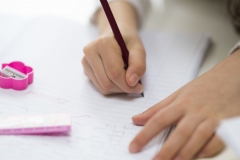 When it comes to schooling our children, we are certainly living in a strange time.
On the one hand, I have seen lots of encouraging articles for parents who are now, through no choice of their own, facilitating distance learning with their children. On the other hand, I have seen articles that continue to degrade and ridicule home-school families. As the reopening of the public schools remains in question, parents are looking more closely at home schooling. The myths that continue to circulate about homeschooling families boggle my mind. 
Let me start by saying that every single home-school family looks different. We use different curricula, set our own schedules, and have unique classrooms. For example, my mom and I team-teach my two kids and my nephew in a home where we have two separate classrooms. We have a fifth, a seventh, and a ninth grader. My mom has bachelor's degrees in history and English and a master's degree in education. I have a bachelor's degree in criminal justice with an emphasis in juvenile delinquency and a master's degree in counseling. We divvy up the subjects by interest and skill level on our part. We also both work full-time jobs from home. We have a scope-and-sequence, lesson plans, and a set daily schedule for each child. We choose to give our kids a standardized test every two years to help us gauge where they are academically in relation to their peers. 
On the subject of whether or not our children are receiving a "meaningful education" -- and who decides that by the way? -- our children receive instruction in all of the core subjects (reading, writing/grammar, arithmetic, science, and history) plus spelling, geography, and Bible from kindergarten through graduation. They can read and write in both print and cursive. They have memorized the U.S. presidents in order from Washington through Trump. They know their math facts. They work yearly on memorizing/reviewing the U.S. states, their locations, and their capitals. They study theories and laws in science. I am not sure what else we could add to make their education any more meaningful than it already is. 
And then there is the age-old myth about home schooling isolating children and not allowing them access to adults who are mandated reporters for child abuse. Our children attend church every Sunday (in current circumstances on Facebook Live and every Wednesday (the older kids currently attend youth group by Zoom.) The teachers and workers in our children's ministry and youth group are trained to spot and report abuse. They are all three also active in 4-H in our community. The adult leaders there are also trained to spot and report abuse. They attend archery lessons and piano lessons where there are concerned adults who would take appropriate action if they saw signs of abuse. Our children are not isolated. They are very well-adjusted, respectful children.
It has been said that without this socialization, our children cannot grow into productive citizens who contribute to this Republic. This presupposition leaves me speechless. Our kids have all studied and are at various stages of memorizing at least parts of The American's Creed, the Preamble to the Constitution, the Bill of Rights, the Declaration of Independence, and the Gettysburg Address. When we studied Texas history, we drove to south Texas and went to the battlefields and museums to see and touch the history there. They have been to national parks, state capitals, and museums all over the country. We discuss current events on a regular basis and encourage their questions and open dialogue. We are daily encouraging a strong work ethic in them by our examples and our teachings. They likely already know more about what it means to be a productive part of a constitutional republic than most college students today. 
Are we perfect? Absolutely not. Some days the kids do not want to stay focused and on task.  Some days our jobs pull our attention from instruction more than we would like. But every day, I feel that my kids and my nephew are getting the best education that is available to them. Are we a "typical" home-school family?  I do not think one of those exists. We are concerned parents/grandparents who are doing what we feel is best for our children/grandchildren. We are doing what we have a RIGHT as American citizens to do. I find it ridiculous to paint all home-school families with such broad strokes – especially when the paint you are using is toxic. 
Keri Ann Thompson is a data analyst at Concerned Women for America.