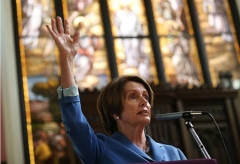 (CNSNews.com) - House Speaker Nancy Pelosi (D.-Calif.) put out a statement on Sunday to mark the sixth anniversary of the Paris Climate agreement and to call on Americans to "serve as faithful servants of God's creation."
"Six years ago, the world came together in Paris to forge an historic commitment to combating the climate crisis," Pelosi said. "In doing so, the international community took an important step for climate action that honored our sacred duty to preserve the planet."
"As the climate crisis accelerates, we are seeing the damage of extreme weather around the world and here at home, posing an existential threat to our children, to our security, to our health and to our planet," she said.
"Nations like ours have a moral duty to take decisive action to cut pollution now–and urge nations that are lagging behind to do the same," said Pelosi.
"Let us forge ahead with a spirit of courage, creativity and collaboration to conquer this crisis and serve as faithful stewards of God's creation for generations to come," she said.
Here is the full text of Pelosi's statement:
Speaker Nancy Pelosi: "Six years ago, the world came together in Paris to forge an historic commitment to combating the climate crisis.  In doing so, the international community took an important step for climate action that honored our sacred duty to preserve the planet.  And just last month, the world convened in Glasgow for COP26 to measure our progress toward the targets we set in Paris – and to strengthen our commitments for the years ahead.  

"Inspired by the voices of young activists around the globe, the Democratic House Majority has been at the forefront of the climate fight: developing the historic climate Action Plan to guide our work, while passing dozens of bills that advance clean energy and protect our planet.  Now, under the leadership of President Biden and the Democratic Congress, 'America is Back!' and leading the world on climate action.  In the Congress, Democrats are paving the way toward a Greener and Cleaner future with our House-passed Build Back Better Act, which represents the most transformative investment in climate action in human history.  Congress also applauds the President's bold promise to slash American carbon pollution in half by the end of the decade and his recent directive to achieve a carbon-neutral federal government by 2050.  

"As the climate crisis accelerates, we are seeing the damage of extreme weather around the world and here at home, posing an existential threat to our children, to our security, to our health and to our planet.  Nations like ours have a moral duty to take decisive action to cut pollution now – and urge nations that are lagging behind to do the same.  Let us forge ahead with a spirit of courage, creativity and collaboration to conquer this crisis and serve as faithful stewards of God's creation for generations to come."