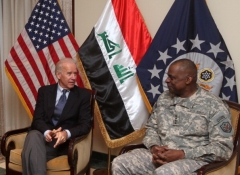 (CNSNews.com) - Presumptive President-Elect Joe Biden formally announced General Lloyd Austin as his pick for Defense Secretary on Wednesday, hailing him as  a "trailblazer," a "statesman," a longstanding friend, and someone for whom his deceased son Beau once worked.
"We need his deep understanding of the Pentagon to help reform the Defense Department," Biden said.
"We need his personal experience helping inform our efforts to ensure that our armed forces reflect the full strength and diversity of our nation, that Black, Latino, Asian American, Native American, women, men, LGBT service members are treated with dignity and respect."
"You know, at a time when more than 40 percent of our--more than--listen to this. More than 40 percent of our active duty forces are people of color. It's long past time that the Department leadership reflects that diversity."
Biden said the threats facing the U.S. now are not the same as those we faced five or ten years ago:
We must prepare to meet the challenges for the future--of the future. Not keeping--not just keeping fighting wars of the past. We must build a foreign policy to lead with diplomacy, revitalizes State Department, revitalizes our alliances, putting American leadership back at the table and rallying the world to meet global threats of our security.

From pandemics to climate change, from nuclear proliferation to refugee crisis, as part of our diverse national security leadership team, Lloyd Austin knows how to do this work.
Biden ended his remarks "on a note of personal privilege."
As a leader, General Austin has always followed the advice given to him by his first platoon sergeant. As my son Beau Biden was a major in the military, I said now you're a field grade officer. Dad, he said, I don't have any illusions, Dad. He said, I know who runs the United States Army. Platoon sergeants.

And here's what his platoon sergeant told him. "If you focus on your people, take care of them, get out in front and lead them. They'll refuse to let you fail." That's why he's inspired so many young people who worked for him and give their very best to live up to his example of leadership, including, for a time, a young lawyer serving a year in Iraq as a captain with his Delaware National Guard unit. My son, Beau Biden.

I know how proud Beau was to serve on the general's staff, General Austin's staff and I know that under your leadership, general, the Department of Defense will advance the security of the American people in ways that always, always, always honor our highest values and ideals.
In his remarks introducing Austin, Biden said he got to know Austin "during my early days as vice president."
"President Obama had charged me with overseeing the end of Operation Iraqi Freedom and ensuring the orderly withdrawal of our forces and equipment from Iraq," Biden said.
General Austin was with me on the ground, not just for a meeting with troops or for military strategy sessions. He was there when I was working with the Iraq political leaders. I watched his political skill, how he dealt with them. They respected him across the board.

...He was the person President Obama and I entrusted with the incredible task of bringing home America's forces in redeploying our military equipment safely out of Iraq. It was the largest logistical operation undertaken by the Army in 60 years.

Getting it done required much more than military know-how. General Austin was a diplomat. It was not an easy task. He built relationships with our Iraq he counterparts and with our coalition partners. He was a statesman representing our country with skill at--at--you know at tables that I have sent with him with foreign leaders, and I wondered whether or not he was from the State Department or from the Defense Department.
The Obama-Biden administration's decision to pull combat troops out of Iraq in 2011 was heavily criticized at the time and years later for creating the vacuum eventually filled by the Islamic State. Obama ended up sending U.S. troops back to Iraq in 2014 to counter the rise of ISIS.
Obama later defended his controversial 2011 troop pullout by saying he had no choice -- "we needed the invitation of the Iraqi government" to keep them there, he said. So clearly the Austin-Biden diplomatic efforts did not persuade the Iraqi leadership to keep residual U.S. forces in the country.
 
Also See:
Iraq War II: Obama Seeks New War Authorization; Will More Than Double U.S. Troops on Ground
Obama: Pulling All U.S. Troops Out of Iraq Was Not 'My Decision'
Iraqi Priest: Pulling US Troops Out Was a 'Bigger Mistake' Than 2003 Invasion