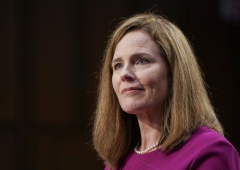 A new national Rasmussen survey finds that one in four of both all U.S. likely voters under 40 and Black likely voters say Catholics – such as Supreme Court nominee Amy Coney Barrett – should not be allowed to serve on the nation's highest court.
In the national survey, conducted October 8 and 11, 2020, Rasmussen asked if Catholicism's opposition to abortion should disqualify all Catholics from being confirmed as Supreme Court justices:
"Because the Catholic Church opposes abortion, should Catholics be prohibited from sitting on the U.S. Supreme Court?"
While about one in seven (14%) of all U.S. voters said, "Yes," Catholics should be barred from the Supreme Court, one in four U.S. voters under 40 years old (26%) and one in four of all Black voters (26%) said Catholics should be prohibited from serving.
Only 8% of voters 40-64 and 65+ said they approve of the ban. Twelve percent (12%) of White voters and 15% of those of other races said that Catholics should be kept off the court.
Rasmussen did not ask the same question about Supreme Court nominees of other religions that oppose abortion.
In another survey question, Rasmussen asked if a Supreme Court nominee's faith should "be a deciding factor in determining who sits on the U.S. Supreme Court."
While 16% of all U.S. voters agreed that a nominee's faith should be a deciding factor, 25% of Black voters and 21% of all voters under 40 said they think religion should be a consideration.
The issue of whether Judge Barrett's Catholic faith should prevent her from becoming a Supreme Court justice has been a contentious subject of debate during the judge's Senate confirmation hearing taking place this week.